Brazil's inflation off target in 2013 and prospects in election year not encouraging
Saturday, January 11th 2014 - 06:49 UTC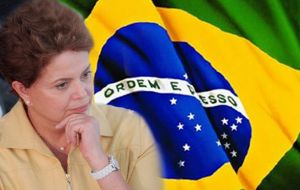 Brazilian consumer prices ended 2013 higher than expected at 5.91%, above the upper limit of the government target, after inflation surged in December, official statistics released Friday showed. The Brazilian Institute of Geography and Statistics (IBGE) said last month's inflation figure of 0.92% was the highest for December since 2002, and compared with 0.54% a month earlier.
The December spike was fueled in large part by higher prices for gasoline and air fares, IBGE said. For the whole of 2013, food prices had the biggest impact on the inflation index.
In late November, Brazil's central bank hiked its base rate by half a percentage point to 10% to rein in high inflation during a period of sluggish economic growth.
It was the sixth straight monthly rise since April and it came barely 11 months before presidential polls in which President Dilma Rousseff is tipped to win re-election.
The bank has been seeking to keep a lid on inflation, which in June reached 6.7% on an annualized basis, above the 6.5% upper limit of the official range.
Stubbornly high inflation poses a major challenge for Rousseff's ee-election in October. If the central bank raises rates too much, it could send the economy into a recession; if not, price increases could dampen consumer confidence and even rekindle street protests as seen last year.
Seeking to put a positive spin on the numbers, Rousseff touted the "historic" fact that inflation has averaged less in her first three years in office than in the equivalent period under her two predecessors - a comparison some analysts called dubious because those governments inherited much higher inflation rates.
"The dragon of inflation that terrorized the lives of Brazilians through the 1990's is definitely a thing of the past," she said on her official Facebook page, which is managed by her Workers' Party.
Analysts said the inflation woes raise the risk that Rousseff's administration will continue to take one-off measures to curb price increase at the expense of public finances.