Uruguay among the world's ten countries with highest inflation
Wednesday, January 15th 2014 - 19:24 UTC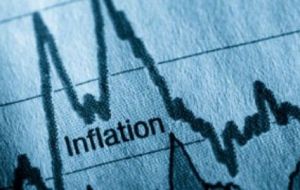 Uruguay is ranked among the world's ten countries with the highest inflation, having climbed from position 15 to 10 last year, only surpassed in Latin America by Venezuela and Argentina. Last year Uruguay ended with an inflation of 8.52%, well above the 4% to 6% target, and according to Central bank officials "it remains the main challenge for the country's economic policy".
The concern is well founded when compared to inflation in 115 countries, since in the last few years Uruguay has been ranked 16 (2010); 8 (2011) and 15 (2012). This is particularly confusing since 'inflationary pressures come from the demand side", and Uruguay's economy has completed a decade of strong uninterrupted growth. In China for example with 7.3% growth in 2013, inflation was 2.5%.
In Latin America Venezuela leads with 56.2% as reported by President Nicolas Maduro who blamed the business community of speculation and involvement in "an economic war against his regime".
Argentina follows with official Indec inflation in the last twelve months in the range of 11%, although the so called Congressional index, an average of private consultants, reached a 22 year record breaking of 3.8% in December and 28.38% in the twelve months of last year.
Behind Uruguay in fourth position comes Bolivia with 6.48%, which was higher than in 2012 (4.5%) and below the central bank's target of 7.5%. Brazil follows with 5.84%, which was in the range of target, 4.5% plus minus two percentage points. However it was well above what market analysts were expecting.
Paraguay which was the fastest growing economy in the region, 12.9% in 2013, experienced an inflation of 3.7%, while in Chile it reached 3%, half way between the target of 2% to 4%.
Finally along the Pacific, Peru registered an inflation of 2.86%; Ecuador, 2.7% and Colombia, 1.94%, the lowest inflation in a decade.
While this happens in Latin America, in the developing countries such as the European Union the challenge is beating deflation. In the Euro zone, still in ICU, inflation last year was 0.8%, below the European central bank target of 2%.
Meantime in the United States inflation in the last eleven months was 1.2%, while the Federal Reserve target stands at 2%.