Falklands Daily Telegraph poll: majority of votes came from Argentina
Thursday, January 16th 2014 - 08:37 UTC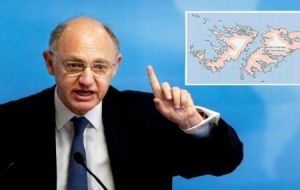 The Daily Telegraph stated on Wednesday that two thirds of the votes in the Falklands/Malvinas poll came from Argentina. The British newspaper argued that the Argentine vote-flow followed "a social media campaign".
The poll, carried out by the daily morning broadsheet two weeks ago, revealed that almost 74% of the voters wanted the Falklands Islands to be under Argentinean sovereignty.
However, the Telegraph now published a detailed data analysis and stated: "In total there were 26,434 votes cast, with two thirds of the votes coming from Argentina, following a social media campaign".
Taking nationality into account, the online responses underline sharp national divisions: In the UK, out of 4,853 votes, 4,520 were cast for Britain, with 245 voting for Argentina; on the other hand, of the 18,216 votes cast in Argentina, 96.86% of respondents said the Malvinas should belong to Argentina.
Click on the link to access the article: " Telegraph poll highlights differences between Britain and Argentina over Falkland Islands"
See also "Active online poll from "The Telegraph" shows Falklands should be under Argentine sovereignty"