Chile's main ports remain paralyzed amid clashes with police and suspended negotiations
Friday, January 17th 2014 - 07:00 UTC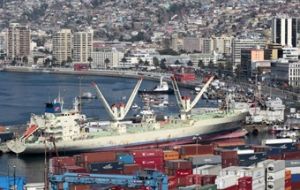 Chile's main ports continued paralyzed as negotiations between striking workers and authorities are at an impasse and ugly skirmishes with police play out amid millions of cases of perishable export produce which are likely to spoil.
Jorge Bustos, leader of United Port Workers (TPU), insists that the issue will be resolved when the government acknowledges that workers in the San Antonio port are entitled to retroactive payments they say they were promised in a dispute over abolished lunch hours last year.
Attempts to break up the strike at the port — which handles 80% of Chile's fruit exports turned to serious confrontation earlier in the week.
"At 6 p.m. [Monday] 300 policemen closed the doors, and 320 administrative workers entered the building of STI [San Antonio International Terminal]," Bustos told The Santiago Times.
In addition, unresolved negotiations at the Bío Bío port and at the Mejillones port in the Antofagasta Region led to resumption of strikes. At both ports, protests saw further clashes with reports of six injured with Carabineros — uniformed police — in Antofagasta.
All activity in Bío Bío port ceased Tuesday morning and, according to organizers, 3,000 marched in Talcahuano and San Vicente in Concepción Province.
Bustos said that workers have mobilized once again in Concepción after the government pledged to meet with actors involved in negotiations in Mejillones, only to send in Carabineros to break up strikes Monday.
"The government guaranteed a tripartite meeting between the government, [major port management company] Ultraport and port workers which did not happened due to repressive forces that broke into the port of Mejillones," Bustos explained.
The strikes have already had a significant economic impact on exports, specifically the fruit industry. According to a statement from the Chilean Fruit Growers Federation (Fedefruta), 2.5 million boxes — equivalent to 65 million dollars — will be endangered should the strike continue throughout the week, building on the 1.5 million containers of fruit — worth 40 million — lost last week.
Cristian Allendes, president of Fedefruta, said the strikes have come at one of the industry's busiest times.
"In February we ship over 6 million boxes per week, which could represent catastrophic losses to fruit farming which this season does not have an option other than take full advantage of its production seriously affected by frosts in September," Allendes said in a statement, referring to the devastating spring freeze last year.
Non-perishables such as copper have experienced significant delivery delays, but will be less affected in the long run.
"We have not been able to ship around 20 million tons of copper, which we will as soon as it is possible," Pablo Orozco, a representative from state-owned copper company Codelco, told The Santiago Times. "Rather than talking in terms of loss, we can talk of a postponement in gain."
By Consuelo Fernanda Laclaustra - The Santiago Times