Mercosur summit suspended for the third time: mid February could be next date
Friday, January 17th 2014 - 06:22 UTC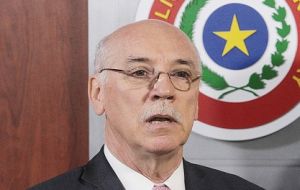 Mercosur president's summit was suspended on Thursday for the third time, due to agenda incompatibilities, Paraguay's Foreign Minister Eladio Loizaga confirmed in Asunción. Earlier in the day, Loizaga met with Brazilian Foreign minister Luiz Alberto Figuereido. The meeting was going to take place in Caracas, on January 31.
"The summit will be now held in the first fortnight of February", Loizaga said to the press. The meeting was first postponed because of President Cristina Fernandez health problems in December 2013.
The minister said that 'agenda issues' was the reason for again changing the date for the summit, but would not expand on his brief statement. Nevertheless he underlined that the Argentine president Cristina Fernandez and her health condition was not involved this time as had happened originally in December.
From December the summit was moved to 17 January and it was to be President Cristina Fernandez first overseas trip since her cranium operation. But then Venezuela president Nicolás Maduro announced it would take place on 31 January. Apparently Argentina requested end of the month so it would mean an only air trip for Cristina since another regional summit was scheduled for the end of January.
The Caracas summit is expected to mark the full return of Paraguay to Mercosur, after having been suspended in June 2012 from the group. Precisely this week Paraguay signed the documents which formally incorporate Venezuela as full member of Mercosur, an issue which was controversial since the Paraguayan Senate for years had systematically refused to approve Venezuela inclusion.
The announcement took place at an improvised press conference at Paraguay's government house when Loizaga also explained that the other summit from the Community of Latin-American and Caribbean States, or Celac, scheduled for January 28 and 29 in Havana, Cuba, remained unchanged and represented 'totally different agendas'.