Falklands' pastures development scientist in the New Year's Honors List
Saturday, January 18th 2014 - 05:08 UTC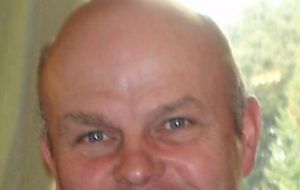 Two scientists from Britain's Agri-Food and Biosciences Institute (AFBI) have been awarded OBEs in the New Year's Honors list. Professor Jim McAdam from Queen's University Belfast, for services to research and agriculture in the Falkland Islands, and Dr Danny Todd was honored for his contribution to biological sciences and veterinary work, reports Farming Life.
Professor Jim McAdam is Head of AFBI's Crops, Grassland and Ecology Branch and an Honorary Professor in Queen's University Belfast. He is an expert on upland grasslands and agro-forestry systems.
Professor McAdam received his OBE for his personal contribution to scientific research and agriculture in the Falkland Islands since the 1970s where he went originally as Pasture Agronomist to a small UK agricultural research team. He spent three years there before returning to Northern Ireland as Hill Land Research Officer with the then Science Service of DARD.
In 1983 he was asked to revisit the Islands to advise on agricultural and rural development matters. He has visited annually since and, under the auspices of a charitable trust, the UK/Falkland Islands Trust, has encouraged and provided advice to local farmers and the Department of Agriculture in the Falklands on issues such as cultivation and utilization of native forage grasses, the commercial use of seaweed, the cultivation of paeonies, the use of shelterbelts and research to investigate the impact of climate change.
Professor McAdam's voluntary work in the Falklands includes editing the Falkland Islands Journal and acting as a committee member of the Shackleton Scholarship Fund. He has compiled a unique collection of Falkland Islands scientific papers in Queen's University Belfast.
Professor McAdam is also a member of the editorial board of the Chilean scientific journal, Anales del Instituto de la Patagonia (Chile), the Irish Journal of Agri- Environmental Research and Biology and Environment: Proceedings of the Royal Irish Academy.
During his 38-year career in AFBI's Veterinary Sciences Division, Dr Danny Todd's scientific work has had a major impact on local, and indeed global, animal health. His research on animal viruses, particularly those causing disease in poultry, has been internationally recognized through invitations to make presentations at scientific conferences in many countries.
He has published over 100 scientific papers and book chapters on viral diseases of animals and collaborated with scientists in many countries.
Dr Todd pioneered the introduction and use of molecular methods in AFBI's Veterinary Sciences Division for the identification and characterization of important viral agents of animal disease.
His major contributions included demonstrating the considerable genetic diversity of avian rotaviruses, the characterization of chicken anemia virus as a small virus with a single-stranded circular DNA genome, the differentiation of porcine circovirus type 2 from porcine circovirus type 1, the identification of several novel chicken astroviruses and the characterization of salmon pancreas disease. Dr Todd retired from AFBI in 2013.