Gibraltarians will travel to EU offices in Brussels to protest Spain's border controls
Saturday, January 18th 2014 - 06:32 UTC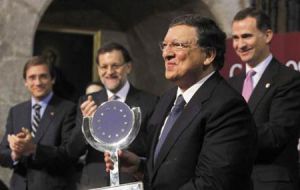 The Gibraltar Government will sponsor a group of Gibraltarians and local residents who plan to travel to Brussels to protest before the European Union about delays caused by Spanish checks at the border, reports the Gibraltar Chronicle. The group approached the Government in recent months and is said to include people from all walks of life and from all shades of political opinion.
"The result of these discussions is that a group of Gibraltarians and residents of Gibraltar will travel to Brussels at the end of the month in order to complain about the continuing illegal and disproportionate queues at the border," the Government said in a statement.
A spokesman added: "The Government is assisting with funding and some logistics assistance."
The office of Gibraltar's Liberal Democrat MEP, Sir Graham Watson, has arranged for members of the group to meet with the MEPs currently representing Gibraltar and with other MEPs and officials.
"The Government is planning initiatives of its own in Brussels and will not be involved in this movement which is led by members of the public," the Government statement said. "Those participating do so in an individual capacity regardless of their employment, their political sympathies or their group affiliations."
The group plans to hold protests in Brussels at the EU Parliament and elsewhere and will be presenting a petition with signatures.
Meanwhile Spain is also doing its strong lobbying: the outgoing President of the European Commission, Jose Manuel Barroso was awarded the Carlos V European prize of the European Academy at Yuste, the vice-president of which is Spain's Foreign minister José Manuel García-Margallo.
Barroso received the award in the presence of the Princes of Asturias, the President of the Spanish Government, Mariano Rajoy, and the Prime Minister of Portugal, Pedro Passos Coelho.
Speaking to the European Parliament in Strasbourg earlier this week, Mr. Barroso issued a strong defense of free movement for EU workers, describing it as "a fundamental principle of Europe, a fundamental principle of the treaties... an indispensable ingredient of European citizenship... an indispensable pillar of the single market" which the Commission will uphold.
The European Academy of Yuste Foundation was established on April 9th, 1992 as a permanent cultural foundation. It was born with the wish to stress the value of the close link between the Monastery of Yuste and Emperor Charles V's life and death.