HMS Protector surveying previously unchartered waters off Sandwich Islands
Saturday, January 18th 2014 - 05:41 UTC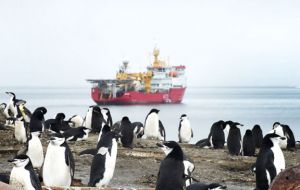 Previously uncharted areas of the Southern Ocean have been surveyed by personnel on board Royal Navy ice patrol ship HMS Protector. Using its multi-beam echo sounder the ship gathered data off the Sandwich Islands along areas of the Douglas Straits between South Thule and Cook Island for the UK Hydrographic Office to fill in missing data in the Admiralty Charts.
At the same time a survey team were sent to Thule Island – at the southern end of the ice-capped volcanic islands – to update the environmental survey records for the government of South Georgia and the South Sandwich Islands, a British Overseas Territory.
The survey findings will be analyzed to assess the scale of any clean-up work required as a result of previous human presence and whether it would cause unacceptable disruption for the resident penguin colonies – there are more than 60,000 penguins including the chinstrap, adelie and gentoo species – as well as many other varieties of wildlife.
Captain Rhett Hatcher, commanding officer of HMS Protector, said the crew's work took them to some very inhospitable and challenging environments but he added: "My team are well trained, extremely keen and privileged to see some of these islands that few people ever get to visit."
The last Royal Navy ship to reach Thule Island was HMS York in 2010 but their efforts to get ashore were hampered by the inhospitable environment and changeable weather.
HMS Protector left Portsmouth in October 2013 and is to stay in the Antarctic region until 2015 conducting surveys and patrols on behalf of the UK Hydrographic Office and Foreign Office, and providing logistical support to the British Antarctic Survey organization. It also provides a sovereign presence in the British Antarctic Territory.
The UK Hydrographic Office, which is based in Taunton, was founded in 1795 when King George III appointed Alexander Dalrymple FRS as the first Hydrographer to the Admiralty. Dalrymple set to work reviewing 'difficulties and dangers to His Majesty's fleet in the navigation of ships'. The first Admiralty Chart, which was of Quiberon Bay in Brittany, appeared in 1800