Less incursions into Gibraltar waters by Spanish vessels: "a slight change of attitude"
Tuesday, January 21st 2014 - 15:38 UTC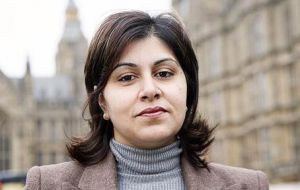 A drop in the number of incursions by Spanish state vessels into British Gibraltar territorial waters could signal "a slight change in attitude" in Madrid, a British Government minister said on Monday. The observation was made during a question and answer session in the House of Lords in which there was evident cross-party support for Gibraltar in the face of pressure from Spain, reports Gibraltar's Chronicle.
Conservative peer Baroness Warsi, senior Minister of State at the Foreign & Commonwealth Office, said there had been a sharp rise in incursions over the past two years, rising from 23 in 2011 to 228 in 2012 and 509 last year. "The good news is that there has been a welcome reduction since December of last year and therefore this may mean that there is a slight change in attitude," she said.
Baroness Warsi was responding to a question from Labor peer and Gibraltar Freeman Lord Hoyle, who asked her about the British Government's response to the incursions and persistent queues at the border.
The minister reeled off a long list of contacts between senior ministers and their Spanish counterparts - all the way up to Prime Minister himself – going back several months. She repeated the standard line that Britain remained confident the Gibraltar waters were British "as sovereignty flows from land".
She also insisted that Britain considered the border checks to be "…disproportionate, politically motivated and therefore unlawful under EU law."
Baroness Warsi was quizzed by Lords from both sides of the House on the British Government's handling of row with Spain.
Labor peer Lord Anderson described the sea incursions as "reckless" and said the border queues were "highly damaging to the [Gibraltar] economy".
Baroness Warsi also underscored the British Government's commitment to engaging in dialogue through ad hoc talks, a format that the Gibraltar Government also accepts.
"Our strategy at this stage is to de-escalate the situation and try and resolve these matters through diplomatic and political routes," she said.
A spokesperson for the Foreign Office confirmed that there had been just eight Spanish incursions into British Gibraltar territorial waters so far this year, most of them of a minor nature.