Almagro and Timerman discuss bilateral agenda and possible Cristina Fernandez-Mujica meeting
Thursday, January 23rd 2014 - 09:47 UTC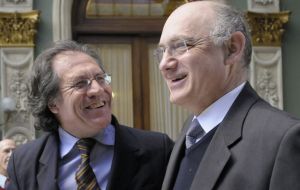 A meeting of the presidents from Argentina and Uruguay, Cristina Fernandez and Jose Mujica has not been agreed but is 'in the agenda' said Uruguayan foreign minister Luis Almagro following an hour long meeting with his counterpart Hector Timerman on Wednesday in Montevideo.
The meeting, to address a long list of bilateral issues, had been tentatively programmed for the Mercosur summit, which has been suspended several times, the latest for sometime in February, but the details are expected to be arranged during the coming Celac meeting at the end of January in Havana, according to Almagro.
"Yes, I guess we have been talking for over an hour, on our own" said Almagro on the sidelines of the Inter-American Human Rights convention conference which is taking place in Montevideo
Relations between Uruguay and Argentina remain strained since last October when President Mujica announced he had authorized the UPM/Botnia pulp mill to expand its annual production, which led to a strong reaction from Argentina. At the time Argentina said it would be returning to the International Court of Justice in The Hague to claim Uruguay had ignored the ruling referred to the controversial pulp mill built on the shared and jointly managed river Uruguay.
But the Argentine government went further and imposed other measures referred to bilateral trade and impeding transshipment of Argentine cargoes through Uruguayan ports which has had a serious impact on the Montevideo terminal.
Then in early October Cristina Fernandez suffered the cranial and cardio-vascular incidents which forced her to remain secluded in the Olivos residence, no politics, no stress, no meetings, no flights for over a month.
The option then was to take advantage of the Mercosur summit in Caracas for a Cristina Fernandez-Mujica meeting, but the schedule was successively postponed from December, to January on two occasions and now mid February.
Before that 28/29 January the Community of Latin-American and Caribbean states, Celac, will be holding a meeting in Cuba to which Cristina Fernandez on Wednesday confirmed she would be attending.
If all happens as minister Almagro anticipated, in Havana the details for a bilateral meeting should be agreed which would then take place in Caracas during the much postponed Mercosur summit.
However Argentina's position is not as strong as it looks. Earlier this week, Uruguay, most probably after checking with Brazil, warned that Argentina might be left out of a Mercosur/European Union trade agreement if the country does not reach the proposed level of tariff reductions of the rest of the members, to be exchanged with Brussels in the next few weeks.
Argentina insists in a policy of promoting the domestic market and local industry, to ensure economic activity and jobs, which really sounds more as simple protectionism.