Argentina after Israeli fighter planes; concern in London and Brasilia, says defense expert
Thursday, January 23rd 2014 - 23:36 UTC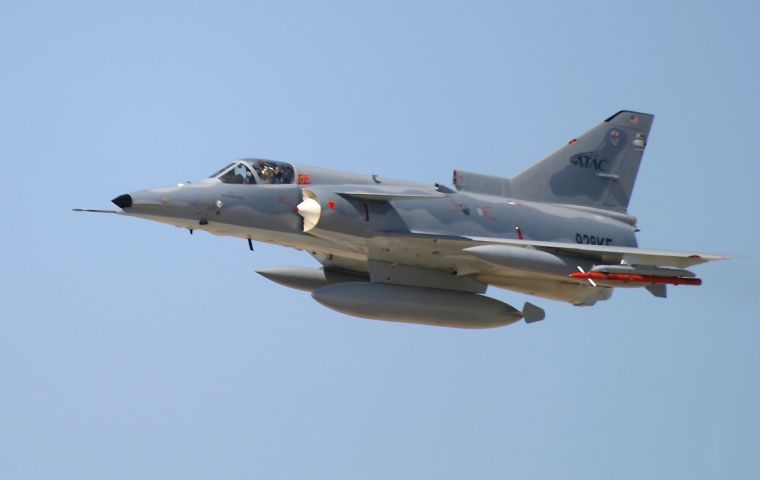 Argentina is considering the purchase from Israel of 18 multipurpose combat aircraft Kfir Block 60 after negotiations with Spain for 16 Mirage F1 fighter bombers fell through, according to a report from Buenos Aires daily Clarin.
Apparently Israel's offer has been on the Defense minister Agustin Rossi's desk since some time but only resurfaced sometime back in September following on the frustrated deal with Spain.
Clarin also mentions that news of the negotiations between the Argentine ministry of defense and Israel's Aero-spatial Industry, IAI, which manufactures the Kfir Block 60, caused 'concern' in the British government since it is suspected that Argentina could use the aircraft to intimidate the oil companies operating in Falkland Islands waters, which are disputed by Argentina.
If the deal effectively is agreed, the first six aircraft would be arriving in Argentina with the 'latest avionics' and 'zero hour' , while the remaining 12 would be assembled in Argentina "in a plant set up and run by Israeli engineers". "Although the aircraft were designed over forty years ago, the refurbished model comes with a reconditioned US J-79 General Electric made engine, an electronic sweeping radar EL/M-2032 from Elta Systems, an affiliate of IAI", according to a report in the site Defensa.com.
Kfir (lion cub in Israeli), has been proven successfully in battle and other air forces have them, such as Ecuador, Colombia and Sri Lanka.
Negotiations which allegedly took off last September involve 500 million dollars with the first delivery a year after the deal is signed.
Although the operation is more than double the Spanish offer of 217 million dollars, "the superior equipment and operational conditions of the Israel fighters is indisputable".
Brazilian journalist Roberto Lopes, who specializes in defense issues was the first to reveal that Israel/Argentina deal negotiations caused concern in the government of PM David Cameron and allegedly representatives from the UK Defense ministry asked their Israel counterparts "for a detailed description of the electronic systems and avionics" of the 18 Kfir.
It was Lopes who said that London fears the aircraft could be used to track and intimidate vessels involved in the Falklands oil and gas industry development.
Oil was first discovered in the Falklands in 2010, and all is set for extraction to begin sometime beginning 2017/18.
British, US and European oil and support companies are involved in the Falklands.
Nevertheless Argentina has reacted strongly and tightened controls of vessels and aircraft in the South Atlantic and has threatened companies involved in the Falklands with legal demands.
Argentina has already sent letters to stock exchanges where these companies are traded and passed legislation which includes heavy fines and prison for oil companies CEOs which are involved in 'illegal' operations in the Argentine Sea.
Lopes also reveals that "the issue is being monitored since the end of 2013 by Brazil's Itamaraty (foreign ministry) and defense ministry". Since a couple of years the government of President Cristina Fernandez has been trying to boost the Argentine Air Force that in the last decade has seen its operational number of aircraft contract significantly because of lack of spares, maintenance and obsolescence.