Ecuador airline suspends flights to Venezuela because of tickets' debts
Friday, January 24th 2014 - 03:33 UTC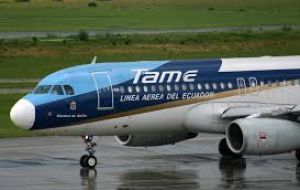 Ecuadorean airline Tame has suspended flights to Venezuela, demanding 43m dollars in overdue payments for tickets. Some 80 passengers were left stranded on Thursday at the airport in the Ecuadorean capital, Quito. Tame says the Venezuelan Central Bank has not transferred any money to its account in Ecuador since April 2013.
Tough foreign currency controls make it difficult for foreign airlines to repatriate money obtained from ticket sales in Venezuela.
The government of President Nicolas Maduro is believed to owe more than 3bn dollars to several airlines, according to Venezuela's Airline Association.
The 43m owed by Venezuela to Tame amounts to one third of the company's yearly revenue, according to Quito's El Comercio newspaper.
The daily 2 1/2-hour flight service between Quito and the Venezuelan capital, Caracas, was inaugurated in 2012 and was usually 90% full, said a company director.
Local reports say negotiations to have the debt settled failed. Venezuelan officials had offered to pay part of the debt in government bonds and aviation fuel.
On Wednesday, the Venezuelan government announced measures to address its foreign currency crisis. Venezuelans travelling aboard will no longer be allowed to obtain foreign exchange and pay for their tickets at the official rate of 6.3 bolivars per US dollar. They will have to pay a higher, market rate.
The official exchange rate will be restricted to essential goods, such as medications, food and industrial supplies.