Mercosur/EU with their own problems still don't have a date to continue negotiations
Friday, January 24th 2014 - 03:35 UTC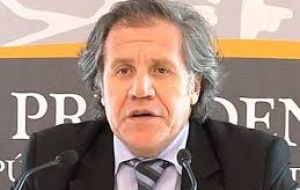 Mercosur and the European Union continue to work on their tariff reduction proposals list but have no scheduled date for negotiators to meet and advance on a long delayed trade agreement according to Uruguayan diplomatic sources. However what is certain is that when the date is agreed it will be clear if Mercosur consensus proposal will include all founding members of the group.
In effect, by that date it will be known if Argentina, Brazil, Paraguay and Uruguay will make the presentation or if Argentina is left out given the contained advance from the government of President Cristina Fernandez overwhelmed with domestic problems and insisting in a policy that gives priority to the domestic market, jobs and local manufacturing.
Such a situation was suggested by Uruguay's foreign minister Luis Almagro earlier in the week with support from Brazil. However the European Union has warned that one thing is a proposal from all Mercosur members and another, probably 'three plus one' which sees Argentina moving at a slower pace, given that Buenos Aires is delayed in coming up with the tariff concessions to be exchanged with the EU. On Wednesday Almagro held an out of agenda one hour meeting with his Argentine counterpart in Montevideo, but both ministers preferred to make no statements.
The Mercosur summit which is scheduled for mid February in Caracas, is seen as the date and place for an agreement on the proposal to be presented to the EU.
"The idea is for all of us to move together, and since the EU has had its own problems with some of its members in elaborating their proposal, it has given us time to move and keep working on the issue", said Almagro on Wednesday. Most probably following on the Mercosur summit both sides will then resume contacts and possibly agree on a formal date.
The previous date last December had to be postponed on request from the EU because of their own differences and the slowdown of activity in Brussels during Xmas and New Year. But parallel to the approach with Mercosur, an ongoing negotiation that took off in 1999, collapsed in 2004 and was re-launched in 2010, the European Union keeps advancing in other trade agreements with the US, Japan and Taiwan. In Mercosur the two countries most enthusiastic about a trade agreement with the EU and willing to concede to make it possible are Brazil and Uruguay.
Brazil is particularly concerned since the EU preferences system that it enjoyed (together with Argentina and Uruguay) no longer exists since these countries are now categorized as high middle class and Brussels with its recession problems, has redirected its aid efforts to the poorest countries in the world, among which Paraguay.
Almagro nevertheless estimates that once the proposals exchange is completed the negotiation process should not last more than six months. Meantime in Argentina, the Secretary of International Trade Relations Carlos Blanco said that the delays in the Mercosur/EU round of negotiations is responsibility of the European countries with strong farm interests that reject market access conditions for efficient Mercosur agriculture.
"The EU has not managed to close its proposals' list because they are under strong pressure from countries such as Poland, Ireland and France", underlined Blanco.