Mantega insists that the Mercosur/EU trade agreement includes Argentina
Saturday, January 25th 2014 - 00:28 UTC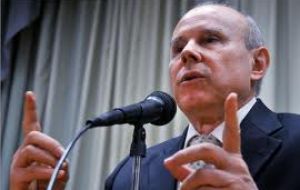 Mercosur is preparing for trade negotiations with the European Union and they include Argentina, said on Friday Brazilian finance minister Guido Mantega at the World Economic Forum taking place in Davos, Switzerland. The comment seems to contradict other recent statements which said the trade deal with the EU will go forward with or without a reluctant Argentina.
"We are negotiating a free trade agreement with the EU and we plan to do it with Argentina, which has had a positive reaction.
This round started a year ago when we formally received a visit from the EU negotiating team", said Mantega.
Earlier in the week Uruguay's foreign minister Luis Almagro admitted the possibility of an agreement between the two blocks without all Mercosur members included. "We could be talking of a three plus one deal, or of one member together with the collaboration of other countries.
Almagro revealed that the tariff reduction proposal presented by Argentina was distant from that of the other members who are pressing to reach an agreement with the EU.
The tariffs proposal has to be exchanged with that of the EU, (which also has its problems), thus setting the framework for negotiations.
The meeting was originally programmed for December but was delayed on request from the EU, since some member countries want to limit market access to Mercosur farm produce (Poland, Ireland, France) and because of the end of the year recess.
A new date has not been scheduled but is expected sometime after the Mercosur summit in Caracas (postponed three times) and planned for the first fortnight of February.
Brazil and Uruguay are anxious to reach a trade agreement with the EU but Argentina is more reluctant given its policies of privileging the domestic market and ensuring jobs in manufacturing.
From Asunción, Paraguayan Industry and Trade minister Gustavo Leite made similar comments saying that Mercosur currently is going through "a moment of very good harmony" among members' governments. "Mercosur and South America are en route to becoming a region of a great economic boost in the near future", said Leite.