Spain has "not taken one step back" regarding its Gibraltar policy, rather the contrary
Sunday, January 26th 2014 - 12:17 UTC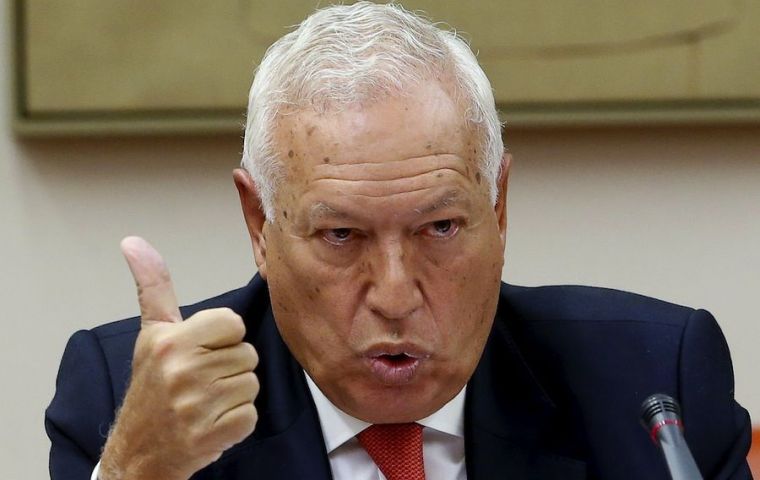 The Spanish Government has "not taken any step back" in relation to its Gibraltar policy "but it has taken many steps forward", the country's foreign minister Jose Manuel Garcia Margallo has declared. Despite the issue having dropped profile in the news since recent weeks, it is an issue "permanently" on the Spanish agenda, the Spanish official told Onda Cero radio.
However, Garcia-Margallo made clear that Spain was not making "unnecessary" statements. The remarks come just days after Baroness Warsi, senior Minister of State at the Foreign & Commonwealth Office, told the House of Lords that a drop in the number of incursions by Spanish state vessels into British Gibraltar territorial waters could signal "a slight change in attitude" in Madrid.
On the tripartite (UK, Spain, Gibraltar) forum García-Margallo said that this was now "closed" and restated that it was not "admissible" to allow Gibraltar sit at talks with the same status and conditions as UK or Spain.
The Foreign Minister also emphasized that many issues were still in process including a series of complaints to the European Commission ranging from Gibraltar's 10% company tax, 'fiscal opacity' to ownership of property in Spain by persons or legal entities based from Gibraltar which are now subject to a "massive" investigation by the Spanish treasury.
Other areas being challenged are the bunkering in the Bay, the dumping of the cement blocks on the west side and the reclamation on the eastside of the Rock. The minister said that a prohibition on exporting materials for reclamation in Gibraltar remains in place.
However Garcia-Margallo insisted that all the action Spain is taking remains within the "legal frameworks" set out by the UN and EU.
He listed as a key achievement ensuring that the annual decision by the Fourth Committee is now qualified with the remark that the "aspirations" of the people of Gibraltar must be coherent with UN resolutions. He associated the latter with the UN's rejection of the 1967 referendum.