Brazil current account deficit ended 2013 at its widest in twelve years
Tuesday, January 28th 2014 - 05:00 UTC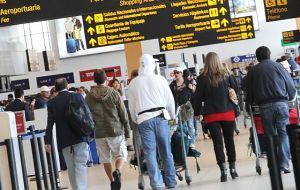 Brazil's current account ended 2013 at its widest deficit in 12 years amid a weakened foreign trade balance, heavy outgoing service payments, overseas profit remittances and an overall lack of confidence in the country's economic policies.
The central bank reported that the current account deficit widened by 21.13 billion over 2013 to end the year at 81.37 billion dollars, or the equivalent of 3.66% of gross domestic product. Brazil's current account deficit stood at 2.41% of GDP at the end of 2012. For December alone, Brazil registered a current account deficit of 8.68 billion.
Central bank officials said the 2013 result was influenced by still weak overseas conditions during the year, but projected the situation would improve this year.
"What's important is that the increase that occurred was caused mostly by the reduction of the trade surplus," said central bank assistant economics department coordinator Fernando Rocha. "For this year we project a reduction of the deficit, both in nominal terms and as a percentage of GDP, in a scenario of greater global growth and depreciated currency that should help with external demand for the country and greater growth."
The widening current account deficit over 2013 was influenced by a steep decline in the country's trade surplus, which narrowed to 2.6 from 19.4 billion in 2012. Overseas interest and profit remittances, meanwhile, widened to 39.7 billion from 35.5 billion the previous year.
Brazilian tourists travelling overseas also established a record in 2013 with 25.3bn dollars compared to the 22.2bn in 2012.
The current account deficit was covered partially by incoming foreign direct investment of 64.06 billion during the year, or the equivalent of 2.88% of GDP. The FDI figure was slightly lower from 65.27 billion, or 2.90% of GDP posted in 2012. Foreign direct investment in December alone totaled 6.49 billion.
The bank said total foreign investment, including portfolio investment, ended 2013 at 100.59 billion dollars, up from 90.37 billion at the end of the previous year.
For 2014, Brazil's central bank projects a current account deficit of 78 billion, and total incoming foreign investment of 87.4 billion, including at least 63.0 billion in foreign direct investment.