Maduro wants Puerto Rico to join Celac, a territory 'free of colonies'
Tuesday, January 28th 2014 - 22:38 UTC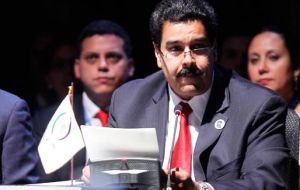 President Nicolás Maduro described the current CELAC summit in Havana as historic and revealed Venezuela has proposed that the group's territories be considered 'free of colonies' and thus invites Puerto Rico to formally join Celac (Community of Latin American and Caribbean state).
"I'm very motivated since this is going to be a historic summit, which will help to consolidate Celac. Venezuela has come to Havana with its proposals and contributions, which is to declare the region 'free of colonies' and invite Puerto Rico to formally join the family" said Maduro.
The Venezuelan leader recalled that Celac was born in Caracas in December 2011, an idea boosted by former president Hugo Chavez and was preceded by Petrocaribe (subsidized oil for Caribbean countries) and trade block ALBA, the Bolivarian Alliance for the Peoples of our America.
Celac is made up of 33 countries from the Americas and the Caribbean but excluding United States and Canada. The first chair of the group was held by Chile, currently Cuba and will be followed by Costa Rica.
The original idea was for Celac to replace the Organization of American States, OAS, with seat in Washington and over a hundred years old. It was considered to be much influenced by the US, and in 1962 expelled Cuba from the organization when Fidel Castro declared his allegiance to the then Soviet bloc.
However attending the summit in Havana, specially invited are OAS Secretary General Jose Miguel Insulza and the UN Secretary General Ban Ki-moon
On Wednesday Celac will release the "Havana Declaration" which apparently has over eighty points, (Falklands/Malvinas and Cuba for certain) and the 2014 'Plan of Action'.