World Cup infrastructure delay is "a joke" says Brazil assistant coach
Tuesday, January 28th 2014 - 21:58 UTC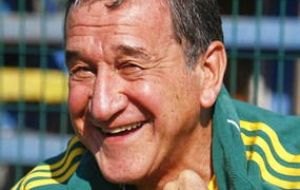 A Brazil assistant coach says it is "a joke" that the country's government took so long to begin the infrastructure work needed for this year's World Cup which is scheduled to begin in June.
Carlos Alberto Parreira said he believes the stadiums will be ready in time, but much of the infrastructure that will benefit Brazilians will not be finished until long after the tournament.
"We missed an opportunity to show the world what we can do in this country," Parreira told Radio CBN. "We missed an opportunity to provide more comfort to Brazilians and to show a different kind of Brazil."
Just seven of the 12 World Cup stadiums are ready for the event, which begins in June.
"We know the World Cup is about stadiums, but it's not only about stadiums. Fans can't live in a stadium," the former world champion said. "They say everything will eventually be ready in 2018, 2020 … but we wanted it ready for the World Cup to try to change this view that the foreigners have about Brazil."
"Rio will always continue to attract tourists. It's a wonderful city," said Parreira, 70. "I can't think of a city that is more beautiful than Rio. But we all know that it could offer us a lot more comfort, a lot more safety and a better quality of life".