Nicaragua's Ortega joins the club of Latam leaders addicted to remaining in office
Wednesday, January 29th 2014 - 06:40 UTC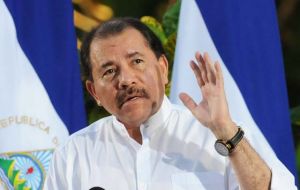 Nicaragua's national assembly voted to scrap presidential term limits, which could allow current head of state Daniel Ortega to run again for election at the end of his current mandate.
Lawmakers must still formally sign off on the details of the bill, after giving general approval, which will make the impoverished country the latest in a string of Latin American nations from Bolivia to Ecuador to give presidents power extending beyond their traditional limits.
It would allow 68-year-old Ortega, a prominent Cold War antagonist of the United States, to seek a fourth term. He has yet to say publicly whether he wants to run again for the presidency in 2016, but is widely expected to do so.
Ortega, a former Marxist guerrilla and ally of the late Venezuelan leader Hugo Chavez, has been president since 2007. He first took power after Nicaragua's 1979 revolution and was formally elected president for a single term in 1984.
The country's divided opposition has accused him of man-handling the constitution to keep his grip on power and maintains that the reform will increase presidential power at the expense of checks and balances.
Ortega's ruling Sandinista National Liberation Front (FSLN) has a majority of seats in the assembly, and opposition lawmakers walked out of the chamber in protest after the resounding general vote.
"These reforms are not necessary," said Eduardo Montealegre, leader of the opposition Liberal Independent Party. "Perhaps they're important for the president because they give him absolute power."
Under the new voting rules, candidates can be elected with a simple majority in the first round of voting, avoiding a run-off.
Ortega's government in the 1980s was convulsed by a civil war that pitted his Sandinistas against right-wing Contra rebels backed and financed by the administration of US President Ronald Reagan.