Celac ratifies full support for Argentina's Malvinas "legitimate sovereignty" claim
Thursday, January 30th 2014 - 06:35 UTC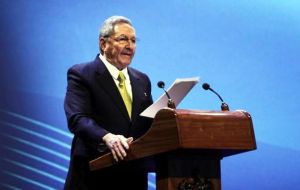 The Celac summit in Cuba underlined in its final declaration its determination to strengthen the regional space among Latin American and Caribbean countries and at the same time ratified its full support for Argentina's claim over the Falklands/Malvinas Islands.
"In two years since the functioning of the Community of Latin American and Caribbean States, we have managed to build a space of dialogue and political convergence that unites us and makes possible the aspiration of working together for the welfare of our peoples, which at the same time enables a better insertion and the projection of our region in the international stage", reads the Havana Declaration released on Wednesday.
Likewise it expresses "its strongest support for the legitimate rights of Argentina in the sovereignty dispute over the Malvinas, South Georgia and Sandwich and surrounding maritime spaces, as well as a permanent interest that such a dispute is resolved peacefully and through negotiations, according to Resolution 31/49 from the UN General Assembly".
The declaration also rejects the US blockade on Cuba and underlines that "the unity and integration of our region must be built gradually, with flexibility, with respect for pluralism, diversity and the sovereign right of each of our peoples to chose their political and economic organization".
Further on it reiterates that Celac is based on 'unrestricted respect for the purposes and principles of the UN Charter and International Law, the peaceful solution of controversies, banning the use and threat of using force, respect for self determination, sovereignty and territorial integrity'.
"We are committed to work together for the prosperity of all in such a way that discrimination, inequalities and marginalization, violations of human rights and transgressions of the rule of law are eradicated".
The document expressed great sorrow over the death of former Venezuelan president Hugo Chavez and also the decision to establish actions that would 'allow us to prevent and if necessary face in coordination the effects of the current international economic crisis".
The document also highlights that for the eradication of poverty and hunger it is necessary to promote economic policies that favor productivity and the sustainable development of member nations; work to strengthen the world economic order to the benefit of our countries, promote complementation, solidarity and cooperation, and demand the compliance with the aid commitments for development, by the developed countries".
The document also underlined the "Latin American and Caribbean character of Puerto Rico and on taking note of the resolutions referred to Puerto Rico from the UN Special Committee on Decolonization, we reiterate that this is a matter of interest for Celac.
"We Celac country members are committed to continue working in the framework of the rule of the law and more specifically Resolution 1514 from the UN General Assembly (14 December 1960, so as to achieve that the whole region of Latin America and the Caribbean become a territory free of colonialism and colonies", added the final resolution which originally was said to hold over eighty points.