Falklands further advances democracy and names Complaints Commissioner
Thursday, January 30th 2014 - 20:48 UTC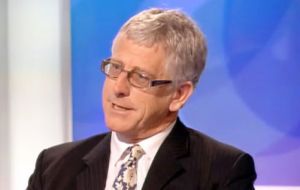 Former member of the Falkland Islands Legislative Assembly Dick Sawle has been appointed as Falklands Complaints Commissioner, which is a similar role to that of an Ombudsman in the UK. Sawle was appointed by Governor Nigel Haywood and his post came into effect on 15 January 2014 for a period of two years.
The role of Principal Complaints Commissioner was introduced relatively recently into the Falkland Islands Constitution and is similar to that of the Ombudsman in the UK and is an important aspect of human rights.
"If any resident of the Falkland islands does feel aggrieved by the actions of their Government, certain publicly funded bodies, or even their elected Members then, once all other routine channels of making a formal complaint have been exhausted, if that person still feels aggrieved, they can make a formal complaint via an elected representative (or in the case of a complaint against an elected representative via the Speaker of the Assembly) to the Principal Complaints Commissioner. The complaint should be made in writing".
Dick Sawle expressed his satisfaction with the nomination and pledged to bring to the role a strong sense of justice, independence and fairness.
"I am delighted to take on this important Constitutional role of Principal Complaints Commissioner. Whilst I do not expect there to be many complaints, it is important that anyone who feels aggrieved by the actions of their Government has the opportunity to make a formal complaint to a fully independent Complaints Commissioner via an elected Member of the Legislative Assembly. It is a fundamental right and has been used in recent years by a small number of people here in the Falkland Islands. I hope that I will bring to the role a strong sense of justice, independence and fairness."
The Complaints Commissioner is completely independent of the Government or any other body and is appointed by the Governor alone.
Under Falklands legislation the Complaints Commissioner will prepare a report on the complaint and decide whether or not any injustice has been suffered as a consequence of maladministration and may make recommendations as to how any recurrence can be prevented. These recommendations are not binding however but the report would normally be published.
However, a response from the Government has to be made to the findings of the report within three months, stating which recommendations are accepted and which recommendations are not accepted and what (if any) actions are to be taken.