Changes in the Brazilian cabinet with an eye on October elections
Friday, January 31st 2014 - 06:25 UTC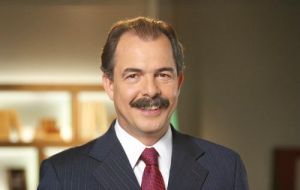 Brazilian President Dilma Rousseff announced changes in her Cabinet on Thursday with an eye on the October elections in which some of her current ministers will run for Congress and regional government posts. She is expected to launch her presidential re-election bid next 10 February.
Presidential chief of staff Gleisi Hoffmann and Health Minister Alexandre Padilha are stepping down effective next Monday, Rousseff's press office said.
Replacing Hoffman, the press office added, "the president named the Education minister, Aloizio Mercadante," while the new health minister will be physician Arthur Chioro.
The current deputy minister, Jose Henrique Paim Fernandes, will take charge of the Education Ministry.
Mercadante is one of the ministers closest to Rousseff. An economist by training, he is an experienced negotiator and is expected to have a fluid relation with Congress. Besides, the left leaning academic should also be a strong support for Finance minister Guido Mantega, who has piloted the Brazilian economy with not much success.
Anyhow Mantega is not expected to be replaced since a few weeks ago Rousseff when asked about the minister simply replied, "why change him, he's doing a good job".
On Dec. 18, Rousseff had announced that she would revamp her Cabinet between January and March 2014 to replace the ministers who are intending to run in the legislative and regional elections.
Brazilian election law requires a sitting official who aspires to an elective post to step down six months ahead of the balloting.
Hoffmann wants to be governor of the southern state of Parana, while Padilha was proposed by former President Lula da Silva as the governing Workers Party gubernatorial candidate in Sao Paulo, Brazil's wealthiest and most populous state