Royal Navy will make more regular calls to Gibraltar, says Lords spokesman on defense
Saturday, February 1st 2014 - 04:12 UTC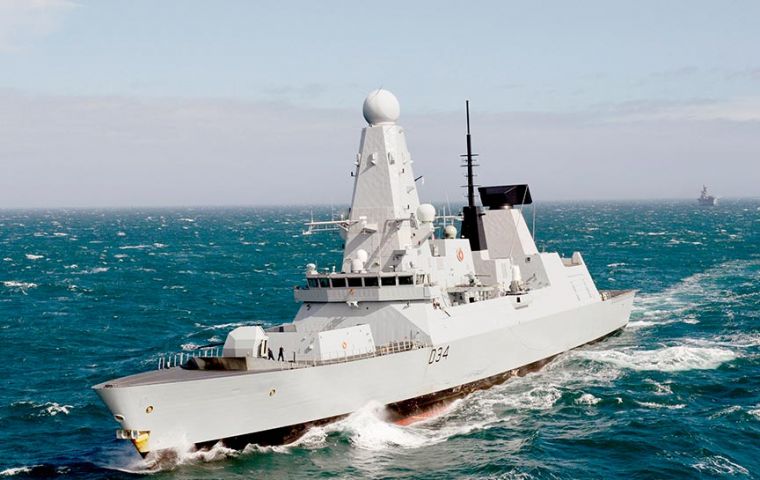 Royal Navy has sent additional personnel to Gibraltar to strengthen its Gibraltar Squadron in response to Spanish maritime incursions into British territorial waters.
The Gibraltar Squadron has increased from two to three crews – around 25 sailors in total – to enable 24-hour coverage, although the number of vessels they operate remains the same, reports the Gibraltar Chronicle.
The decision to increase personnel was revealed in a response to a question in the House of Lords and came as Headquarters British Forces Gibraltar announced that the Royal Navy destroyer HMS Diamond was scheduled to arrive in Gibraltar on Sunday for a week-long visit.
During its stay, the warship will conduct training off the Rock and will anchor in British waters in the Bay of Gibraltar at night. The British Government has so far ruled out deploying larger naval vessels permanently in Gibraltar but has said repeatedly that Royal Navy warships will continue to call regularly at the Rock.
The Gibraltar Squadron's third crew was sent to Gibraltar late last year following a rise in the number of incursions by Spanish state vessels into British Gibraltar territorial waters.
"In response to an increased number of maritime incursions, we have deployed additional personnel to Gibraltar to enhance the response capability and resilience of the Royal Navy Gibraltar Squadron, increasing the number of crews from two to three," said Tory peer Lord Astor of Hever, Parliamentary Under Secretary of State and the Lords Spokesman on Defense.
"Larger Royal Navy ships will continue to visit Gibraltar regularly in relation to operational and training activity, reflecting its utility as a permanent joint operating base."
Lord Astor said the British Government was confident of British sovereignty over the whole of Gibraltar, including British Gibraltar Territorial Waters and took its responsibility for protecting that sovereignty "very seriously".
He added: "All elements of the situation, including the maritime security capabilities available to the Royal Navy Gibraltar Squadron, are kept under review."
"Should it be necessary, we will provide additional assets to the Squadron or augment our broader maritime posture as necessary."
HMS Diamond, the third of six Type 45 air defense destroyers arrives in Gibraltar on Sunday for a week-long visit as she sets out on a six month operational deployment to the Gulf.