Argentina grateful to Grenada for Malvinas claim support, promises cooperation
Wednesday, February 5th 2014 - 08:31 UTC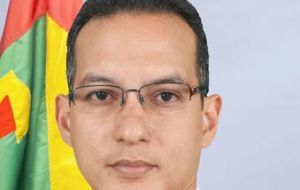 Grenada foreign minister Nickolas Steele is in Buenos Aires for a two-day visit which included a meeting with his peer Hector Timerman and other top officials from the foreign ministry to discuss cooperation, economic development and trade issues.
The ministry release made it a point to underline that Mr. Timerman was especially grateful to Mr. Steele for Grenada's ongoing support for Argentina's sovereignty claim over the Falklands and other South Atlantic Islands.
Grenada is a member of the UN Decolonization Committee, or C24, and Argentine diplomacy has been wooing Caribbean countries with promises of cooperation and aid, and opening embassies in the main island-states.
According to a release from the Argentine foreign ministry Mr. Steele also discussed the results of the recent Celac (Community of Latam and Caribbean States) summit in Havana attended by both countries, and the links of Caricom (Caribbean Community and Common Market) with OAS (Organization of American States).
Grenada is going through a difficult financial and economic situation with the government calling on trade unions to accept a three-year wage freeze as it seeks to enter into an agreement with the IMF to deal with an ailing economy.
Last week, the IMF said that despite two consecutive financial arrangements with Grenada, totaling more than 28 million dollars, the island missed the key program objectives of securing a sustainable fiscal position and a higher growth path.
The IMF said that Grenada during the period 2006-11 had received 15.2 million in assistance under its Poverty Reduction and Growth Facility (PRGF) arrangement and a successor 13.3-million Extended Credit Facility (ECF) arrangement that was approved in April 2010.
Late last year Grenada Prime Minister Dr Keith Mitchell told nationals that while the international community was willing to restructure the island's debt, the country would have to make sacrifices.
Mitchell, whose New National Party (NNP) came to office in February last year, said Grenada was unable to pay its creditors and was seeking the assistance of the international community to restructure its debt. Since then there have been several activities aimed at finding a solution to restructuring the debt that is estimated at more than two billion EC dollars (One EC Dollar = US$0.37 cents).