Falklands' oil industry developer Premier CEO steps down
Wednesday, February 5th 2014 - 08:21 UTC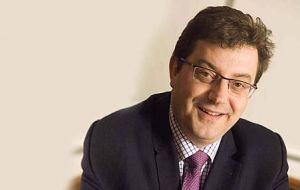 Shares in UK's Premier Oil, which has interests in developing Falkland Islands oil, soared almost 9% on Tuesday despite news that its chief executive is to step down after nine years at the helm. Simon Lockett will leave his position and the board of Premier once a successor has been appointed.
"It has been a privilege to lead Premier during a transformational period in the company's history, through the global financial crisis and Premier's 75-year anniversary," he said.
"We can be proud of what we as a team have achieved but, after nine years, I believe now is an appropriate time for a change in leadership as the business moves into its next phase.
"I am also looking forward to pursuing new business opportunities but in the meantime will continue to devote all my energies to ensuring the continued success of Premier."
Premier Oil is involved in the development of Sea Lion, where oil was first struck offshore the Falklands by Rockhopper Exploration. The Sea Lion discovery was successfully tested during September 2010 and June 2011 and was the first oil to flow to surface in Falkland Islands waters.
In October 2012 Rockhopper completed a farm-out agreement with Premier Oil whereby Premier Oil acquired 60% of Rockhopper's interests in its North Falkland Basin licenses.
However Premier struggled to hit production targets last year, twice cutting forecasts due to problems at projects in Britain's North Sea and Vietnam. Oil production for 2014 is expected to be flat or at most grow 8%, due to maintenance and efficiency issues in the wake of successive downgrades last year
During Lockett's time as chief executive, Premier has seen production grow 56% to 58,200 barrels of oil equivalent per day, proven and probable reserves grow 65% to 292 million barrels of oil equivalent and the share price rise more than 140%. Other operational highlights include; proven and probable reserves and resources have grown from 210 mmboe to 773 mmboe, a 268% growth; and operating cash flows risen from 119 million dollars in 2005 to 808 million dollars in 2012, a 580% improvement, said the company.
For the same period, Premier's share price rose more than 140%, outperforming the FTSEUR250.
According to the Financial Times, Mr Lockett arrived at Premier Oil in 1994 from Shell and, after spells as commercial manager in Indonesia and as country manager in Albania, joined its board as operations director in 2003.