Pacific Alliance summit will remove tariffs from 92% of goods and services
Wednesday, February 5th 2014 - 08:54 UTC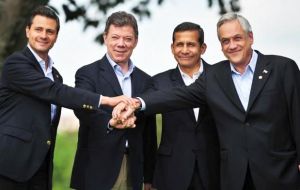 The four presidents of the Pacific Alliance are scheduled to sign next Monday the trade group's Additional Protocol which will remove tariffs on 92% of goods and services, effective immediately, announced Colombian president Juan Manuel Santos who will be hosting the summit in Cartagena.
Presidents Sebastián Piñera from Chile, Enrique Peña Nieto, Mexico and Ollanta Humala, Peru have confirmed attendance to the summit which in a couple of years has become the fastest advancing trade group in Latinamerica with its policies open to foreign investment, free trade and promotion of the private sector.
"Next week we meet in Cartagena with presidents Piñera. Peña Nieto and Humala to sign the trade accord which removes tariffs on 92% of our trade, effective immediately", said Santos who currently holds the rotating chair of the Pacific Alliance.
He added that the Pacific Alliance which has its pillars based on free trade, foreign investment and respect for contracts and "is not an excluding group".
"As we have said time over and over, this alliance is not a closed group, is not an excluding group, nor does it oppose other integration efforts", underlined the Colombian leader.
"We are the concrete and pragmatic expression of the interests of a group of countries which decided to unite to take advantage of their synergies and the huge market of the Asia-Pacific basin".
The Pacific Alliance was started in April 2011 with the "Declaration of Lima" and became formalized on 6 June 2012 with the framework accord signed at the summit held in Chile. The group's population is almost 210 million and its GDP over 2 trillion dollars.
Costa Rica and Panama are candidates to join the group and over 25 countries including China, UK, Germany, South Korea, Canada, Australia are observers.