Making Spanish workers to queue to access Gibraltar is "curious"
Thursday, February 6th 2014 - 22:28 UTC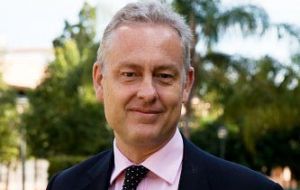 Britain's ambassador to Spain has expressed concern about continued queues at the border between Gibraltar and Spain. Speaking to reporters during a visit to the Canary Islands, Simon Manley said the queues were "curious" given Spain's high unemployment and the fact that many Spanish workers were caught up in the delays.
"It's important that people who have jobs are able to work," he said, adding that up to 10,000 crossed the border daily to get to work.
Ambassador Manley said it was in the interest of Gibraltar and La Linea to resolve the border problem.
He said the British, Gibraltar and Spanish governments and local authorities should work together to eliminate the queues and tackle problems such as tobacco smuggling.
In related news the European Parliament voted on Wednesday to reverse Gibraltar's exclusion from draft EU legislation on air passenger compensation. The Parliament was voting on a revamped directive that will make it easier for passengers to secure adequate compensation from airlines.
But the draft legislation proposed by the European Commission included a clause promoted by Spain that specifically barred Gibraltar from the measures. However MEPs approved an amendment tabled by Gibraltar Liberal Democrat MEP Sir Graham Watson to delete that clause.
"This is a victory for passengers, for Gibraltar and for the equal treatment of all EU citizens," Sir Graham said.
"The European Commission's proposed revision of the [Air Passenger Compensation] Directive left in the Gibraltar exclusion clause". He added "we have now taken out this nonsense".
Sir Graham said MEPs from across Europe had signaled that excluding Gibraltar from this measure was "unjustified discrimination".
The draft legislation approved by the European Parliament will now be considered by the Council of Ministers in March. Under the EU's co-decision procedure, the Council of Ministers may accept the Parliament's position or adopt its own position for further discussion with MEPs.
"The UK Government must now take up the cudgels in the Council to make sure Gibraltar is fully included in the final legislation," Sir Graham said.