Falklands trip by Uruguayan lawmakers condemned by Argentine embassy
Friday, February 7th 2014 - 06:59 UTC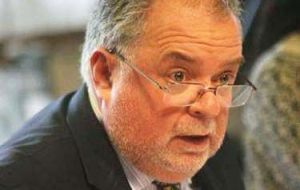 The Argentine embassy in Montevideo through a "Forum Malvinas Uruguay" release "totally rejected" the decision from a group of Uruguayan lawmakers, representing all parties in parliament, accepting an invitation from the British embassy to visit the Falkland Islands.
"This is more than a crude imperialist strategy, whose ultimate objective is to maintain the British occupation of the Malvinas which started in 1833, by ousting the Argentines living in the Islands, and now continues with the illegal exploitation of the natural resources in those usurped territories", said the release.
On Thursday the Montevideo weekly Búsqueda revealed that a group of Uruguayan lawmakers with representatives from all parties, Fitzgerald Cantero (Colorado Party); Jaime Trobo and Daniel Mañana (National Party); Daniel Radío (Independent Party) and Jorge Pozzi from the ruling Broad Front coalition was travelling to the Falklands this weekend.
The purpose of the trip as several previous ones, is so that Uruguayan lawmakers meet with Falklands politicians and business people to learn firsthand about the situation and conditions in the disputed Islands.
"We invite the Uruguayan people and particularly their national representatives to review the proud and historic position of Uruguay, of full support for the sister Argentine Republic, which includes glorious chapters in international law, decolonization and rejection of colonial conquests", underlines the release from the Argentine embassy in Montevideo.
"This activity patronized by Great Britain is just a maneuver pretending to legitimize their violent, archaic and solitary position, profoundly criticized all along the planet", adds the release.
This is also Jaime Trobo's second trip to the Falklands, since he was an observer of the Islands referendum in March 2013 when an overwhelming majority of Falkland Islanders voted to remain as a British Overseas Territory.