First Sea Lord warns the Royal Navy faces "the fight of our generation"
Tuesday, February 11th 2014 - 23:59 UTC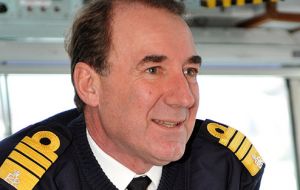 Britain must commit to operating both its new aircraft carriers and replacing its nuclear deterrent if it is to remain a first division military power, the head of the Royal Navy has warned. Admiral Sir George Zambellas, the First Sea Lord, said the service faced "the fight of our generation" if it was to remain a credible force in the years ahead.
His comments - reported in The Times - were made in a speech last week to a closed audience of naval personnel and defense ministers. Admiral Zambellas, who spoke out as military chiefs prepare for next year's strategic defense and security review (SDSR), said the Navy needed to retain a a mix of warships, submarines, fighter jets, Royal Marine vessels and surveillance aircraft at a "sensible and credible level of scale".
"Make the Royal Navy 'un-credible', and we cease to be a first division player. Our responsibility to the Navy we command and lead, our responsibility to defense, and our responsibility to the nation we serve, is to fight to deliver a credible Navy," he was quoted as saying.
His intervention comes after the Chief of the Defense Staff, General Sir Nicholas Houghton, warned last year that defense cuts had left the Navy "perilously close to its critical mass" in terms of manpower. In his speech, Admiral Zambellas argued that the Navy needed both the new Queen Elizabeth class aircraft carriers currently under construction. Under current plans, one vessel could be mothballed or sold off.
He also voiced support for a like-for-like replacement of the submarine fleet which carries the UK's Trident nuclear deterrent, maintaining the continuous-at-sea-deterrent, a position strongly supported by the Conservatives, although the Liberal Democrats favour a cheaper, scaled-back alternative.
"Our strategic direction will be re-defined as our nation emerges from recession, blinking into the sunlight of global opportunity. We must argue relentlessly that if we want to be a credible nation, then we need a credible Navy," he said.
A Ministry of Defense spokesman said: "The Defense Secretary has made clear that he views the nuclear deterrent as the ultimate safeguard of the UK's national security and that the Government will progress with its commitment to a like for like replacement.
"A decision on the future of the second Queen Elizabeth class aircraft carrier will be made as part of the next SDSR but the Defense Secretary has already made clear that he supports the idea of it entering service with the Royal Navy".