Paraguay concerned with Argentine plans to move nuclear facilities to border area
Tuesday, February 11th 2014 - 07:53 UTC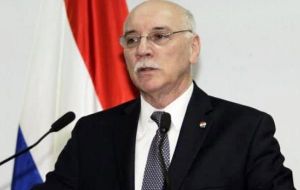 Paraguay has instructed its ambassador in Buenos Aires to collect information on Argentina's plans to set up an uranium processing plant in the northern province of Formosa, neighboring with the land-locked country.
Argentina's Federal Planning minister Julio de Vido recently revealed that the government or President Cristina Fernández is planning to set up a uranium processing plant belonging to Dioxitek along the border with Paraguay.
Paraguay's foreign minister Eladio Loizaga has admitted that no Argentine authority has informed Asunción regarding plans for an uranium processing plant, just across from the shared border river, and anticipated a formal request through diplomatic channels.
"Our embassy in Buenos Aires received instructions to request information from the Argentine government and verify the extent of that information". Apparently the uranium processing plant will be moved from Cordoba to the border area in six months time.
The Dioxitec company was created by Argentina to ensure the input for the manufacture of fuel for its nuclear energy generating plants in the country: Embalse and Atucha 1.
But the announcement of the Dioxitek plant close to the Paraguayan border has not gone unnoticed, since the project has been mentioned previously and included building a nuclear power plant next to the fuel supplier. The plan to set up a Carem reactor in Formosa have been around for over five years, according to Paraguayan officials..
In December 2009 minister De Vido announced that the reactor was to generate 'between 100 and 150 megawatts' of electricity.
There is concern in Paraguay because of the proximity to the border of the planned plant and the dangers involved in the event of an accident. To this must be added the fact Argentina has provided virtually no information to Paraguay authorities about the plans.