Incident with British flagged cruise vessel in Buenos Aires: 'unacceptable example of intimidation'
Thursday, February 13th 2014 - 21:50 UTC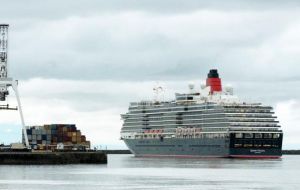 According to reports in the British media, Cunard's 'Queen Victoria' was warned it faced hefty fines if the cruise continued to fly the red ensign while in the port of Buenos Aires. This has led to a strong reaction from the Foreign Office which described the incident as an 'unacceptable example of harassment and intimidation" and anticipated it will be raising the incident with the Argentine authorities.
The captain of Cunard's 'Queen Victoria' was warned he faced a hefty fine if he continued to fly the red ensign - the flag of Britain's merchant fleet known as the "red duster" - while in the port.
The incident comes against a backdrop of continuing sniping by the government in Buenos Aires over the sovereignty of the Falkland Islands, which Argentina has long claimed.
Falklands War veteran Admiral Lord West of Spithead, who was a passenger on the ship, described the action, part of an Argentine ban on all British non-military ships flying the red ensign, as "an insult to the nation".
"After we'd gone round Cape Horn I was at dinner with the captain, and the captain said to me that when they were in Buenos Aires that the ship had basically been threatened with a very punitive fine - about 10,000 US dollars - and also told there would be 'trouble' in inverted commas - not specified - if he didn't take down the red ensign which the ship flies," he told Channel 4 News.
Originating in the 17th century, the red ensign was flown by all Royal Navy vessels. It later became the civil ensign for the United Kingdom.
Admiral West , who was at the helm of his frigate HMS Ardent when it was bombed and sunk during the Falklands war, was on the cruise earlier this month, when he learned of new laws imposed by Argentina's largest province.
'I think it's an insult – it's an insult to the nation,' Admiral West said, describing the provincial law as 'atrocious'.
The law is believed to apply only to ships that have travelled to the Falklands. Under these terms, the Queen Victoria should not have fallen foul of the new rule.
A Foreign Office spokesman said: "We condemn any attempts by the Argentine authorities to unnecessarily interfere with the legitimate transit of UK-flagged vessels. This appears to be another example of unacceptable harassment and intimidation.
"We robustly defend UK interests against any attempts by the Government of Argentina to disrupt any lawful commercial activity. We are urgently discussing the matter with Carnival UK (Cunard's parent company) and will raise this with the Argentine authorities."
Admiral West - a Labor peer - said he plans to ask questions in parliament about the latest diplomatic incident.