Ms Fiona Clouder takes her post as new British Ambassador in Chile
Thursday, February 13th 2014 - 21:45 UTC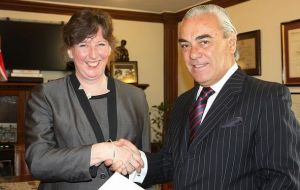 Ambassador Fiona Clouder has taken her post as the new British ambassador in Chile. On taking the post Ms Clouder reaffirmed the close relations of UK with Chile, one of the most important countries in the region.
"I am delighted to be the new Ambassador to Chile. I look forward to furthering relations with Chile, one of the most important countries in the region, and a country with which the UK has strong historical ties. Today, these relations are very productive and present both our countries with major opportunities to develop new partnerships to the mutual benefit of both Chile and the UK", said Ms Clouder.
For the past two years, Fiona led the FCO's strategy on Latin America and work on bilateral relations with South America in her role as Deputy Head Americas. Before that, she worked on migration issues after having been posted to India as Director of Corporate Services.
Ambassador Clouder joined the FCO in 2001 to lead the FCO's work on Science and Innovation, building on her previous role in international science policy in the Research Councils (the British equivalent of Conicyt.)
In her new role in Chile, Ambassador Clouder will focus on forging relations with the new government. She also sees many opportunities to further build relations particularly in the areas of trade and investment, science and innovation, and education.