Brazilian industry wants to change Mercosur rules and demands an urgent trade accord with the EU
Tuesday, February 18th 2014 - 08:41 UTC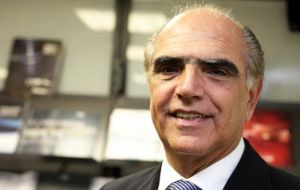 Brazil's National Confederation of Industries, CNI, supports a review of Mercosur rules such as the current impediment for member countries to negotiate trade agreements with third countries, and fervently backs an urgent full trade and cooperation agreement with the European Union.

Carlos Abijaodi head of the Industrial Development Department from CNI said the powerful group he represents defends a review of Mercosur rules "particularly those which force all members to jointly negotiate trade agreements with third countries".

"Brazilian industry wants to negotiate trade accords with other countries at different speeds from the rest of Mercosur members", said Abijaodi adding that "it is important to form part of global value-chains which represent innovation for companies at home. Otherwise we will lose competitiveness and it is difficult to see us advancing in new international markets".

Abijaodi will attend this week a forum on Paraguay-Brazil enterprises that is scheduled to take place in Asunción looking to further promote 'maquila' manufacturing in the land-locked country with the smallest economy in Mercosur.

However Abijaodi also admitted that "despite the macroeconomic difficulties experienced by Latin-American countries in the last twenty years and the internal differences, Mercosur is important for trade dynamics, increase of investments and for the promotion of development".

Regarding trade negotiations with the European Union, the Brazilian expert said it is 'most urgent for Mercosur to reach a free trade agreement with the EU', and effectively exchange the tariffs' reductions proposals.

"We at CNI support that Brazil makes the commitment of exchanging the proposals even if the rest of Mercosur is not ready. This could be the last chance to advance in the agreement, since in May the European Commission is holding elections for a new president, and we don't know if the next president will be so involved and knowledgeable of Mercosur and our needs", underlined Abijaodi.

Regarding Argentina's protectionism sponsored by the government of President Cristina Fernandez, and an obstacle to reach an agreement in the framework of Mercosur to negotiate with the EU, the Brazilian trade expert said that "Argentina is going through a complex moment. If Argentina is not prepared to continue involved with Mercosur, Brazil must keep moving forward".