Fed adopts tighter new rules for foreign banks to shield US taxpayers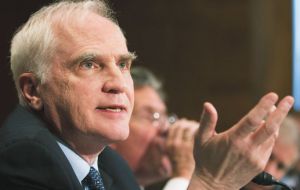 The US Federal Reserve adopted tight new rules for foreign banks to shield the US taxpayer from costly bailouts, ceding only minor concessions despite pressure from abroad to weaken the rule.
Foreign banks with sizable operations on Wall Street such as Deutsche Bank and Barclays had pushed back hard against the plan because it means they will need to transfer costly capital from Europe.
The Fed, which oversees foreign banks, gave them a year longer to meet the standards, and applied it to fewer banks than in a first draft, but the rule was largely unchanged from when it was first proposed in December 2012.
"The most important contribution we can make to the global financial system is to ensure the stability of the US financial system," Fed Governor Dan Tarullo, in charge of financial regulation, said in a speech at a board meeting at which the Fed unanimously adopted the rule.
The reform is designed to address concerns that US taxpayers will need to foot the bill if European and Asian regulators treat US subsidiaries with low priority when rescuing one of their banks.
The largest foreign banks, with 50 billion dollars or more in US assets, will need to set up an intermediate holding company subject to the same capital, risk management and liquidity standards as US banks, the Fed said.
The Fed broke with its tradition of relying on regulators abroad in overseeing foreign banks after the 2008 financial crisis, during which it extended hundreds of billions of dollars in emergency loans to overseas banks.
"(The rule reduces) the likelihood that a banking organization that comes under stress in multiple jurisdictions will be required to choose which of its operations to support," Fed staff said in a document.
Europe has warned of tit-for-tat action, with European Union financial services commissioner Michel Barnier saying in October that the bloc would draw up similar measures if the Fed pushed ahead with its plans.
"It's too early to give a detailed response," Barnier said in an emailed statement. "In any case, we can certainly not accept discriminatory measures that would treat European banks less favorably than American banks."
The Fed also gave foreign banks a year longer to meet the requirement to set up the new structure, with the new deadline set as July 1, 2016. Both changes had been widely expected in the market.
The new structure gives banks less flexibility to move money around than under the current rules, which let banks use capital legally allocated in their home country.