Kirchnerite picket leader tells Maduro he should have Lopez shot for being a traitor and CIA agent
Wednesday, February 19th 2014 - 04:48 UTC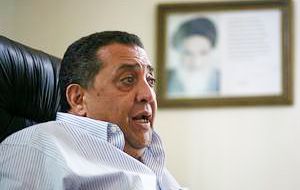 An Argentine picket leader closely aligned with the administration of President Cristina Fernandez openly supported the Venezuelan government of president Nicolas Maduro and called for the opposition leader Leopoldo Lopez to be sentenced to a firing squad.
The Kirchnerite leader Luis D'Elía whose brown shirts have been used to break up or disperse protestors against the Argentine government twitted his support for Maduro and attacked those who are currently generating instability in Venezuela.
Opposition leader "Leopoldo Lopez is a CIA agent, a traitor" argued D'Elía and should face capital punishment.
South American liberators "San Martín and Bolívar, how would have they acted when faced with a fellow citizen involved in intelligence gathering for a foreign power? Maduro must send Lopez before a firing squad, said D'Elía.
He added that if Argentine president (Juan Domingo) Peron in 1951 had had General Menéndez shot by a firing squad, we would have saved much Argentine people blood. Maduro must send the CIA agent Lopez before a firing squad".
At Tuesday midday while heading a massive protest in Caracas, Venezuelan opposition leader Lopez turned over to the National Guard, as there was an arrest order against him.
Lopez was driven away in an armored vehicle, and it was later reported he had been taken to a prison not far from Caracas, but a compound well defended. The announcement of the transfer was made by President Maduro and the head of the National Assembly, Diosdado Cabello