Small meteorite bang spreads fear of mini earth tremor in central Argentina
Wednesday, February 19th 2014 - 05:04 UTC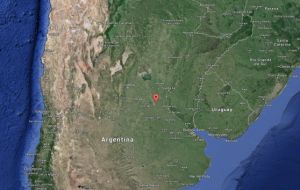 Argentine space expert Jorge Coghlan said that the huge bang heard on Tuesday and that scared many people in central Santa Fe province was caused by a "meteorite which disintegrated on entering the atmosphere and thus caused a major vibration". The incident was reported early mid morning.
"This happened at an altitude of approximately 70 kilometers", said Coghlan who added that as the "space rock penetrates the atmosphere; in a radius of forty kilometers it could be clearly heard". However in this case the radius area was estimated in 300 kilometers.
The Fire Brigade of the town of El Trebol in central Santa Fe province had been warned by NASA that sometime in the morning a phenomenon of this kind was possible, "and most probably that is what happened".
The head of the local Fire Brigade said that according to reports from different offices the bang was heard in a radius of 250 to 300 kilometers, thus the fright and fears it could have been an earth tremor.
Marcos Escajadillo, head of Santa Fe province Civil Protection said that because of the impact and extension of the bang, "all emergency mechanisms went on alert. Currently we are waiting for a report from the Space Activities National Committee, although at this stage we can confirm no impact on land".
"We have reports from an area of 120 kilometers and it all confirms it was a high altitude event. Radiation pressure generated the vibrations at surface level and in window glasses as if it had been a minor earthquake" added Coghlan.
The expert from Code, Center of Space Observers said that "an estimated 100.000 elements of this kind bombard the Earth every day but they are mostly so small that they are not detectable".
As to the element which caused the phenomenon registered on Tuesday, Coghlan said it wasn't larger than a fist, but it enters the atmosphere at a speed of 130.000 kilometers. Further more if it had happened in full day light and clear sky "we could have easily detected the lightning bolt".