Argentine restructured bondholders appeal to the US Supreme Court
Friday, February 21st 2014 - 07:06 UTC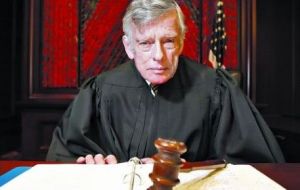 A group of bondholders that entered the restructuring of Argentine debt in 2005 and 2010 have presented their own appeal before the United States Supreme Court, in the case involving the so-called holdout hedge funds. The petition, made public on Thursday, mirrors a similar appeal carried out on Tuesday by the Argentine government.
The bondholders, working under the name Exchange Bondholder Group and led by Gramercy Management, requested the "revision" of Judge Thomas Griesa's ruling against Argentina, as a way of "mending the enormous damage that immediately threatens non-parties affected as a result of judicial orders" passed by the New York courts.
Those rulings "present fundamental issues of national importance in relation to the appropriate reach of federal and constitutional judicial power, putting in danger the interests of some citizens' private property in the interests of others," according to the petition.
Judge Griesa of the New York Courts, followed by the city's Second Circuit of Appeals Courts, ruled that the plaintiffs who refused to enter the debt swaps should be paid in full, a figure close to 1.33 billion dollars.
In this scenario, which could see Argentina pay the 'holdouts' with funds destined for those who entered the swaps, the Exchange Bondholders Group maintained that their petition "presents an issue of national importance" under certain clauses of the US Constitution's fifth amendment.
Members of the group emphasized that they possess "fundamental constitutional rights which protect them from government actions that would take over their assets for the benefit of other private citizens.