Cristina Fernandez ratifies solidarity with Venezuela: opposition should wait for next elections
Saturday, February 22nd 2014 - 07:11 UTC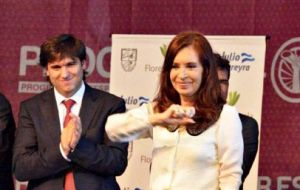 In a rally at the Buenos Aires province town of Florencio Varela, President Cristina Fernandez ratified Argentina's "solidarity" with the Venezuelan government of President Nicolas Maduro, as the fifth Mercosur full member continues to be caught up in a wave of violent protests that have claimed the lives of 6 so far.
"There is nothing more important than peace and democracy" stated the Argentine leader.
"This is not only about Venezuela. We have said it when democracy in Bolivia, in Ecuador was in danger. We extend our supportive hand to the people of Venezuela. There is nothing more important than peace and democracy, the respect of popular will and life," the head of state said in a message that seemed also aimed at the Venezuelan opposition whose leader Leopoldo López has publicly called for the "exit" of President Nicolás Maduro.
"If they did not get to win the elections this time, they should run in the next elections. But a region that has been declared a zone of peace can't be put up in the air" Cristina Fernandez insisted and added that political demonstrations can take place "without violence."
"Violence engenders only more violence. We must be tolerant. We can't stir up a fire that does not belong to this region, but that is fueled from other parts. Let's not be stupid, peace is built with our words and actions".
Meanwhile from Caracas, Venezuela president Nicolas Maduro at a press conference to explain why his decision to oust CNN journalists claimed that the country was facing the "most brutal media campaign" since 2002 when the coup attempt against then president Hugo Chavez.
"There is a campaign from the world's right to divide Latin-America and they are achieving it" said Maduro.
"The right in Latin America is against Venezuela. President (Sebastian) Piñera from Chile, Colombian president (Juan Manuel) Santos and from Panama (Ricardo) Martinelli have succumbed to the conditions of the US", insisted Maduro, while repeating that Venezuela never interfered in the internal affairs of those countries.