Falklands' annual inflation 0.6%; improvements planned for the index
Saturday, February 22nd 2014 - 06:40 UTC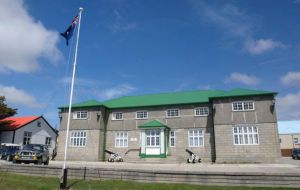 The Falkland Islands inflation for the last quarter rose by 0.03% with an annual increase of 0.6% it was announced at this week's Standing Finance Committee, reports the Penguin News.
According to the report this is the first index published using the new basket of goods. Data for the new basket of goods was collected over the preceding 12 months and there has now been enough time to allow re-basing of the index.
As such the retail price index has been re-based to October 1, 2012, the first data point for the new basket of goods. A paper to SFC notes that the new index provides a more accurate measure of inflation across an up-to-date basket of goods, but that during the verification process an issue arose in which ongoing improvements could be made.
The issue involved the basket of goods in some cases being sensitive to the particular brand of "good chosen to be measured."
Variations in a particular brand of product can have a disproportionate effect on the retail price index which may not reflect price changes in other brands of the same product.
To overcome this problem, the Falklands' Treasury and the Policy Unit are now analyzing the basket to identify a full list of products to which the problem relates and will then ensure that data is collected for more than one brand of these products during each quarter.
A weighted average price will be used to calculate price changes for these goods.
This will eliminate any distortions that could be caused by the availability and pricing of particular brands of goods in the Islands, reported the Falkland Islands Government Accounting Officer and the Policy Office.