Rousseff consolidates as favorite to win re-election in October
Monday, February 24th 2014 - 05:14 UTC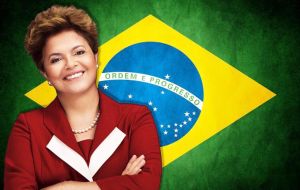 Brazil's President Dilma Rousseff remains the favorite to win re-election in October with a comfortable lead over possible contenders, according to a poll published Sunday. The Datafolha polling institute said Rousseff has recovered much of the support she had lost in the wake of mass street protests in the middle of last year.
Millions of Brazilians demonstrated in cities across the country of 200 million people. They had many complaints, but most were focused on perceived corruption and on the poor quality of public services, such as health care and education.
The Datafolha polling institute on Sunday showed that Ms. Rousseff does best in the most likely scenario, in which she would face Aécio Neves, of the Brazilian Social Democracy Party, or PSDB, and Eduardo Campos, of the Brazilian Socialist Party, or PSB.
In that event, 47% of respondents said they would vote for Ms. Rousseff, which would likely be enough to secure her a comfortable first-round win, according to the poll. Mr. Neves would secure 17% support, and Mr. Campos would come in third with 12% support.
Mr. Campos, Pernambuco state governor joined forces at the end of last year with Marina Silva, a Brazilian environmentalist and former environment minister who came third in the 2010 presidential race, winning 20 million votes.
The Datafolha poll showed Ms. Silva would do better than her running mate, Mr. Campos. If Ms. Silva were to head the ticket, Ms. Rousseff's support would decline slightly, to 43%, while 23% of those polled said they would support Ms. Silva. That might be enough to force a second-round runoff, according to Datafolha.
Mr. Campos is widely expected to head up the PSB ticket, although a formal decision hasn't yet been announced.
The PSDB's Neves is the former governor of Minas Gerais, Brazil's second-biggest state. The PSDB's candidate in 2010, José Serra, came second in the first round of voting with 33% support, although he ultimately lost to Ms. Rousseff in the second round.
Datafolha interviewed 2,614 voting-age Brazilians nationwide (161 cities) on Feb. 19 and 20. The poll's margin of error is two percentage points.