Repsol board approves the YPF compensation deal worked out with Argentina
Tuesday, February 25th 2014 - 20:43 UTC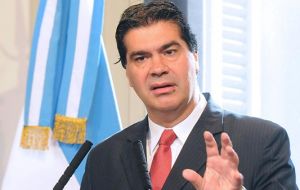 Spanish oil major Repsol's board approved on Tuesday in Madrid a definitive 5 billion dollars settlement from Argentina over assets seized in 2012, drawing a line under a two-year battle for compensation.
Apparently Argentina offered dollar-denominated Argentine bonds with a face value above the agreed 5 billion compensation to account for the discount attached to government bonds since the country defaulted on international debt in 2002.
The Argentine government has also agreed to issue additional bonds to compensate Repsol if the market price of the bonds falls below the agreed compensation, the source added.
Representatives of Repsol's largest shareholders - lender La Caixa, builder Sacyr, Mexican state-owned oil company Pemex and Singapore state investor Temasek Holdings Pvt Ltd - are all expected to back the deal.
Following boardroom approval, shareholders will be asked to give the green light at an annual general meeting in March or April. The deal also needs approval from the Argentine Congress, which could come in May.
Repsol is in the middle of a four-year plan to boost its international exploration and production business to compensate for the loss of YPF, which had accounted for over half of its output. It has said it could sell its 30% stake in Spanish power firm Gas Natural Fenosa to help fund a purchase in North America.
In Buenos Aires the Argentine government described the Repsol compensation deal as "positive" as it will pave the way for Argentina's energy self-sufficiency.
"It is positive to favor the strategic association of capitals or the acquirement of financing to speed up investments that allow generating energy self-sufficiency" cabinet chief Jorge Capitanich said at Government house, where he held his routine press conference this morning.
The head of ministers explained that the 5-billion-dollar compensation agreement will have to be also approved by Repsol's administrative board and shareholders and by the Argentine congress.
Defending the accord, Capitanich added that YPF is Argentina's "emblematic company" to promote energy self-sufficiency and pointed out the state-run firm increased its oil production by 10% since a majority stake was seized in 2012.