Paraguay will chair Mercosur in the next six months, says Dilma Rousseff
Wednesday, February 26th 2014 - 07:10 UTC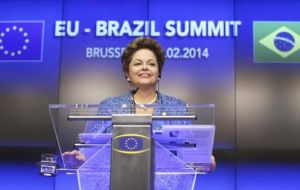 Paraguay will hold the following rotating chair of Mercosur, (if the group's summit to be hosted by Venezuela and which has been delayed on several occasions really takes place). The announcement was made by Brazilian president Dilma Rousseff during her visit on Monday to Brussels for the Brazil/EU summit, who underlined that Brazil supports dialogue as the way out to the current situation in Venezuela.
"We believe dialogue is far better than the institutional rupture. We always support democracy; we can't tell Venezuela what they should do, but if there is a coup in the country, Mercosur will proceed as it did in 2012 with the situation in Paraguay" Rousseff told Brazilian media that asked about the Venezuelan crisis.
"Look at what happened in Paraguay: when (Fernando) Lugo was ousted...after all that happened, Paraguay is back in Mercosur and they will hold the next presidency of the group when the next meeting", said the Brazilian leader in Brussels.
Rousseff in her speech to the EU/Brazil conference and addressing the president of the EU Council Herman Van Rompuy and EC president Manuel Barroso, said that Mercosur is working next to Celac and Unasur to ensure that all Latin American countries "have a sustainable path to democracy, and this applies to all countries in the region".
By this "I mean countries looking for peace in their decades-long armed conflicts, such as Colombia as those with conflicts at home, domestic conflicts, and in that sense we support consensus and democratic solutions", insisted Rousseff.
Brazilian diplomatic sources also confided that Itamaraty is following very closely events in Venezuela, and the issue was brought up by Foreign minister Luiz Alberto Figuereido when he visited Cuba, and most probably again when former president Lula da Silva meets the Castro brothers in Havana this week.
"This summit is a symbol of the importance Brazil assigns to the relation with the EU, with which we share such precious values as respect for democracy", underlined Dilma Rousseff.
As to the exact date when Paraguay will be taking the pro tempore presidency from Venezuela is anybody's guess since the Mercosur presidential summit, when such events take place, has been postponed several times; in December, January and February and apparently is now scheduled for some time early March.