Falkland Islands acting governor until the end of April sworn in
Friday, February 28th 2014 - 05:00 UTC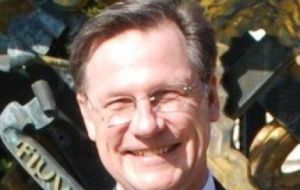 John Duncan OBE was sworn in as Acting Governor of the Falkland Islands on Thursday at 5pm at Government House, in advance of the arrival of the Islands' next Governor Colin Roberts CVO at the end of April.
A spokesperson for Government House told Penguin News that it was, "normal practice in the event of a gap between Heads of Mission for the FCO to reinforce overseas posts with London-based senior staff until the Governor or Ambassador- designate is able to take up their post. This is the case in this instance".
Mr Duncan was appointed HM Governor of the British Virgin Islands in June 2013, a post he will take up in mid-2014. He is currently attached to the Overseas Territories Directorate of the Foreign and Commonwealth Office (FCO).
He was previously Deputy and then acting Head of the former South Atlantic Dependant Territories and Antarctic Department from 1996-98, during which time he visited the Falkland Islands.
Regarding the long gap between the Governors, the Government House spokesperson commented: "succession planning for senior overseas postings is complex. It is rarely possible to synchronize arrivals and departures precisely, which is why there are standard procedures to cover any interregnums". (PN).-