Pescanova's survival to be decided in a month; Friday first deadline
Friday, February 28th 2014 - 03:14 UTC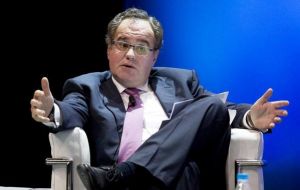 One of Spain's leading fishing companies Pescanova (under administration) faces a decisive deadline for its future, while banks finalize the negotiation of a creditors' agreement based on debt cuts and investment in the firm, according to Europa Press based on sources familiar with the situation of the company.
The deadline for the agreement which should be supported by 51% of creditors after receiving the approval of the receivers and the judge, is Friday, exactly a year after Pescanova admitted insolvency.
The creditor banks have intensified contacts these days in an effort to close a deal before 3 March, the deadline set by the Commercial judge of Pontevedra.
On Monday, financial institutions reconvened in Madrid with representatives of Damm group. This group remains the favorite to revive the company, as it is its major shareholder, and it may become the industrial partner that banks need to move the project forward.
Economía Digital reported that banks have devised a plan for which they count on Demetrio Carceller, Damm president. The proposal is to take control of the Galician company, with the Catalan beer firm becoming its industrial partner. This plan would write off EUR 2 billion of Pescanova's debt but around EUR 1 billion would be saved and Damm would not have the majority in the future board.
Meanwhile, international funds have not abandoned this race and have convinced former Minister Eduardo Serra, president of Everis Foundation, to lead a consortium.
BlueCrest, Knighthead, Du Pont, Scoggin Capital Management and J. Goldman & Co. L.P. are also trying to improve their offer for Pescanova, which so far includes a capital injection of EUR 300 million and a debt shave between 70 and 80%.
The judge set a deadline of Friday 28 February for submitting proposals of agreement, so documents submitted until 3 pm Monday 3 March will be admitted.
Furthermore, the court set 31 March as deadline for adhesions or votes against the proposed agreement, which may be carried out until 1 April. As of that date, the fate of the company would be cast. If no agreement is reached by the deadline, Pescanova will enter into liquidation.
The Galician multinational reported sales of more than EUR 1.2 billion in 2013, an amount that represents a decline of 18%, but allows the company to have liquidity at least until next April to pay salaries and debts to suppliers. (FIS)