Hague raises UK's concern about illegal Spanish incursions in Gibraltar waters
Tuesday, March 4th 2014 - 23:53 UTC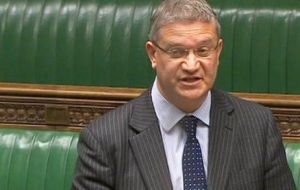 UK Foreign Secretary, William Hague, personally raised Britain's concerns about persistent "illegal" Spanish incursions into British Gibraltar territorial waters, it was revealed. Mr. Hague spoke to Gonzalo de Benito, the Secretary of State at the Spanish Ministry for Foreign Affairs, on February 20 on the margins of an emergency meeting of the EU's Foreign Affairs Council to discuss the situation in Ukraine.
Mr de Benito was standing in at the meeting for Mr. Hague's direct Spanish counterpart, Foreign Affairs Minister José Manuel García-Margallo, who was recovering from an operation. The conversation in Brussels came two days after British Royal Navy parachutists had to temporarily suspend an exercise after the Spanish Navy's Vigía sailed close to where they were training in British waters off the Rock. It also followed several other incursions involving Guardia Civil and Spanish customs vessels.
There have since been a number of incursions into British Gibraltar territorial waters.
The conversation between Mr. Hague and Mr. de Benito was revealed by Britain's Europe Minister David Lidington in a response to a parliamentary question in the House of Commons tabled by Tory MP Andrew Rosindell.
Mr Hague had "…raised his concerns about illegal incursions by Spanish state vessels into British Gibraltar territorial waters with the Spanish Secretary of State for Foreign Affairs, Mr. Gonzalo de Benito, on 20 February," Mr. Lidington said.
"He also reiterated his proposal of April 2012 for ad hoc talks involving all relevant parties" and underlined that the "we will continue to use all necessary measures to uphold UK sovereignty over British Gibraltar Territorial Waters".