Boudou and Timerman represent Argentina at Chavez anniversary
Thursday, March 6th 2014 - 05:16 UTC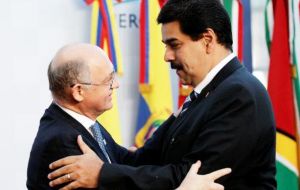 Vice president Amado Boudou and Foreign Minister Héctor Timerman represented Argentina at Wednesday's ceremonies in honor of the late Venezuelan president Hugo Chávez on his death first anniversary, which was followed by huge crowds in Caracas.
Timerman praised in Caracas the role played by the populist leader in the process of Latin American "unity" and ratified President Cristina Fernandez call to "respect democracy."
"Chávez' death was very unfortunate because of everything that it means for Latin American politics," Timerman said in an interview he granted from Caracas.
According to the minister, the late president "made all the efforts for the creation of the Celac, the only organization that brings all the countries of Latin America and the Caribbean" together (excluding the US and Canada).
Timerman also referred to the upheaval that has been hitting Venezuela over the past weeks with protesters marching against the government packing the streets in many cities of the country with opposition leader Leopoldo López publicly calling for the "exit" of Venezuelan head of state and Chávez' political heir Nicolás Maduro.
"All democracies must be respected," Timerman said and pointed out the Maduro administration "has not had not a single day of peace to rule" since it won the elections eight months ago.
"You can't lose the elections and start destabilizing protests the very next day," said Timerman in line with President Cristina Fernandez recent statements over the Venezuela situation condemning the opposition there and calling to respect "democracy and life".
In her speech to Congress on March first, president Cristina Fernandez strongly defended democracy in Venezuela against what was described as the "soft coup attempt", which is suffering the government of president Nicolas Maduro.
"I'm not here to defend the government of Venezuela, I'm not here to defend Nicolas Maduro, I'm here to defend the democratic system in his country", the Argentine leader told Congress.
She warned the Venezuelan opposition that an interruption "of the democratic regime would be fatal for the region", and pledged to defend democracy as "we did in Ecuador and Bolivia, and wherever needed".
However it must also be added that the election that confirmed Maduro as president last December was questioned, challenged, because of the razor edge difference over the opposition candidate Henrique Capriles and allegations of fraud. But the electoral tribunal in Venezuela refused a petition for a vote recount.