Jamaica pledges to decriminalize cannabis ('ganja') "later this year"
Thursday, March 6th 2014 - 21:40 UTC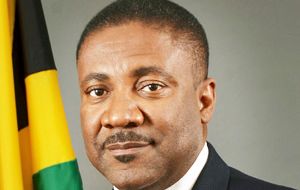 Jamaica's Cannabis Commercial and Medicinal Research Taskforce (CCMRT) says it has been given an assurance that the country later this year will decriminalize marijuana as the island seeks to establish a medicinal marijuana industry.
CCMRT leader, Dealana Seiveright in a statement, said that the assurance had come from Jamaican Science, Technology, Energy and Mining Minister Phillip Paulwell.
The statement quoted Paulwell as telling members of the taskforce that "ganja will be decriminalized in Jamaica this year and emphasized that Jamaica cannot be allowed to be left behind on the issue".
"He also reiterated the multiple economic, social and cultural benefits that Jamaica stands to gain if the laws are adjusted sooner rather than later," the statement said.
Last year, Caribbean Community (CARICOM) countries agreed to discuss the issue of decriminalizing marijuana for health reasons at their inter-sessional summit in St. Vincent and the Grenadines in March.
St. Vincent and the Grenadines Prime Minister Dr. Ralph Gonsalves had written to his regional leaders calling for a "reasoned debate" led by CARICOM's political and civic leadership in the context of the legalization of marijuana for medical and health purposes in 20 states in the United States.
But regional leaders, who met in Trinidad last September have not gone heels over Gonsalves proposals saying that a decision had been taken to have the Guyana-based CARICOM Secretariat conduct further research on the medical and legal implications of decriminalizing marijuana.
The CCMRT, which includes representatives of the Ganja Law Reform Coalition, the National Alliance for the Legalization of Ganja and several members of civil society, is chaired by University of the West Indies, Mona Principal Professor Archibald McDonald.