UK interest rate held at 0.5%, making it a record low of five years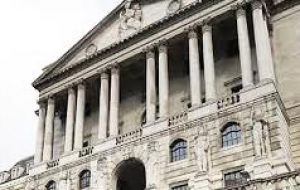 UK interest rates have been held at 0.5% for another month, the Bank of England announced on Thursday. The decision by the Bank's Monetary Policy Committee comes five years after the record low level was first introduced.
It is the first rate decision since the bank amended its "forward guidance" policy that linked borrowing rates to unemployment figures. The Bank also kept its £375bn quantitative easing (QE) program unchanged.
The Committee reached its decisions in the context of the monetary policy guidance announced alongside the publication of the August 2013 Inflation Report, said the bank's release, which added that in the context of that guidance, the Committee agreed to reinvest the £8.1 billion of cash flows associated with the redemption of the March 2014 gilt held in the Asset Purchase Facility.
The minutes of the meeting will be published at 9.30 a.m. on Wednesday 19 March.
The previous change in Bank Rate was a reduction of 0.5 percentage points to 0.5% on 5 March 2009. A program of asset purchases financed by the issuance of central bank reserves was initiated on 5 March 2009. The previous change in the size of that program was an increase of £50 billion to a total of £375 billion on 5 July 2012.
The half-decade of ultra-low interest rates has seen returns on savings hammered, while mortgage borrowers have reaped the benefits of lower repayments.
The committee's interest rate decision was the first to be influenced by what has been dubbed "fuzzy guidance", in which the Bank links borrowing rates to the speed at which the economy uses up spare capacity, as measured by 18 indicators.
Analysts expect a raise in the interest rate to about 1% over the course of 2015, then to 2% by the end of 2016, but the British Chambers of Commerce (BCC) said the Bank should resist any pressure to act sooner.