Unasur meets to address the Venezuelan situation next Tuesday in Chile
Saturday, March 8th 2014 - 06:32 UTC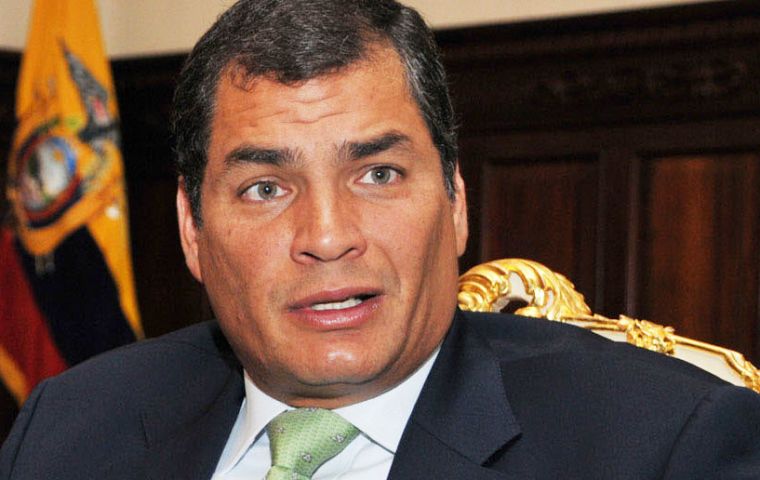 Latin American foreign ministers and most probably presidents, will meet next week to discuss the unrest in Venezuela that has left at least 21 dead and hundreds injured and arrested following weeks of protests and clashes, according to the Ecuadorean president Rafael Correa.
The officials will gather at a meeting of the Union of South American Nations (Unasur) group of Latin American nations in Chile, where the leaders are congregating for the inauguration of President Michelle Bachelet on Tuesday 11 March.
President Correa said late on Thursday that the bloc's presidents would meet. Diplomatic sources said, however, that foreign ministers would meet instead.
"However as a matter of courtesy we have to consult the Venezuelan government first. We are talking of a sovereign country", said Correa.
Bolivian president Evo Morales, a close friend of the Venezuelan regime said on Wednesday that he had been involved in making contacts with the Unasur-members presidents for the special meeting but had yet not been agreed because several leaders were "dragging their feet".
Venezuelan opposition sympathizers have been holding rowdy street protests for nearly a month to demand the resignation of President Nicolas Maduro given his government's incapacity to control scarcity of staples, inflation and rampant crime. They accuse his government of using excessive force against demonstrators. Maduro says the demonstrations are part of a Washington-backed plot to overthrow his government.
"The truth is that the Venezuelan government is the victim, Nicolas Maduro is a humane person who would be incapable of repressing his own people," Correa said in a TV interview.
The unrest has been the worst in Venezuela in a decade, but does not show any signs of forcing Maduro from office, nor of affecting the country's crucial oil exports.