Argentina's February inflation 4.3%, according to the Congressional index
Thursday, March 13th 2014 - 08:14 UTC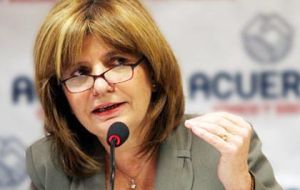 Argentina's inflation during February reached 4.3%, according to the so called Congressional index, which is an average of private consultants and is released monthly by the opposition members from Lower House Freedom of Speech committee. This means inflation in the last twelve months in Argentina reached 34.8%.
"February's inflation index has reached 4.3% and 34.8% in twelve months. To really measure the impact you must check the twelve months projection and in this case it is up four percentage points. This gives an idea that inflation is out of control and the current crisis accelerating" said opposition lawmaker Patricia Bullrich.
"It is the highest rate of February inflation in the last 23 years, (1991)" insisted the lawmaker.
"Inflation in the last three months accumulates 12.7%, which if we annualize we are talking of an index of 61.4%. The government of President Cristina Fernandez does not know how to handle the situation as it simply is improvising going back and forward, with no serious plan", added Bullrich.
"We know how these prices impact on food purchases, we're planning to assess the situation and the new index from the government which should be released later this week", indicated lawmaker Smidt Liermann, adding that "we simply ask government that the same way people are adjusting their pockets to the inflationary situation, the government also adopts a similar attitude and does not look sideways".
Finally lawmaker Federico Sturzenegger, who is also an economist said that the index made public on Wednesday is coherent with that released by the City of Buenos Aires which stated that in the first two months of 2014, the index averaged between 9.2% and 10%, which means 33.2% to 35.35 in the last twelve months and an annualized projection of 42%.
"This means there is still a long way ahead before we can say inflation is coming down and we have trust in government stats".